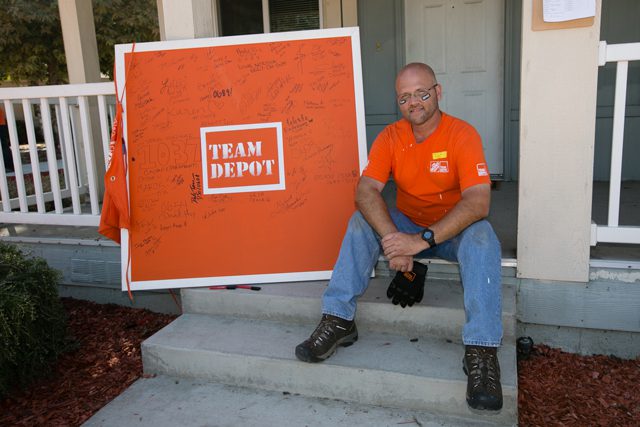 Home Depot partners for vets
Slew of projects transform veteran housing facilities
By Christin Thieme –
The Home Depot Foundation is partnering with The Salvation Army in the Western Territory to transform veteran housing facilities with over $400,000 in financial contributions and in-kind materials.
"Corporate partners bring far more to the table than just dollars," said Maria Todaro, Territorial Corporate Relations Manager, who has overseen the developing partnership. "When The Home Depot brings in associates for engagement projects, they get to see firsthand what The Salvation Army is doing in their local communities."  
Team Depot, The Home Depot's associate-led volunteer force, kicked off its annual Celebration of Service campaign Sept. 8 at The Salvation Army Bell Shelter, one of the largest homeless shelters west of the Mississippi that sleeps more than 350 residents a night in Bell, Calif.
Roughly 11 percent—or 39,500 individuals—of the adult homeless population in the U.S. are veterans, according to the U.S. Department of Veterans Affairs.
"We consider it a duty and honor to give back to our veterans," said The Home Depot Foundation board member and chair Giles Bowman in a statement. "We know they experience many challenges when they return from service and their home shouldn't be one of them."
The Bell Shelter received new interior paint, renovation to onsite modular homes, upgrades in the auditorium and a new shade structure, picnic tables and gardening benches in the community garden. A new bike rack has space for 50 bikes.
"I was a part of a person when I came here. Nothing to go on," shelter resident Ronnie Wald, an 81-year-old U.S. Army veteran told KABC in an interview. "They put me together, and I'm going to be stronger than I ever was when I leave here."
State officials, including Rep. Lucille Roybal-Allard and Assembly Speaker Anthony Rendon, helped start the day of volunteer service that culminated in a closing ceremony with the 70 volunteers.
"The only reason that we can do what we do is that people help us. Today, you've helped us give 'Heart to God, Hand to Man,'" said Southern California Divisional Commander Lt. Colonel Kyle Smith to the volunteers. "In all the little things you've done today, you've become like the hands of God. You've shown kindness to others and you didn't have to do it."
Nearby, at The Haven, a 265-bed shelter and addiction rehabilitation program, Team Depot revitalized the dining room and renovated living space for four additional clients.
Team Depot will close out its Celebration of Service on Nov. 11 at the Haven by transforming an outdoor area and renovating an unused space as a job training lab and clothing store for veterans transitioning into the workforce.
In Las Vegas, Team Depot will soon renovate a 42-client facility. In addition, The Home Depot Foundation recently granted The Salvation Army funding to complete wall and floor repairs and asbestos abatement at The Haven and Hope Harbor, a 50-client facility in Los Angeles.
"I want to help. Just like in my job, I help people who want to get something done," said Dale Truskowski, a Team Depot member and millworks department supervisor at the Cerritos Home Depot. "Often people who come in to the store may have a general idea for something, but they are not sure how to get it done. This is an expanded version of that."
Through Veterans Day on Nov. 11, Team Depot volunteers will transform more than 1,000 homes for veterans across the country. In addition to Team Depot's efforts, The Home Depot Foundation pledged to grow its commitment to veteran-related causes to $250 million by 2020.