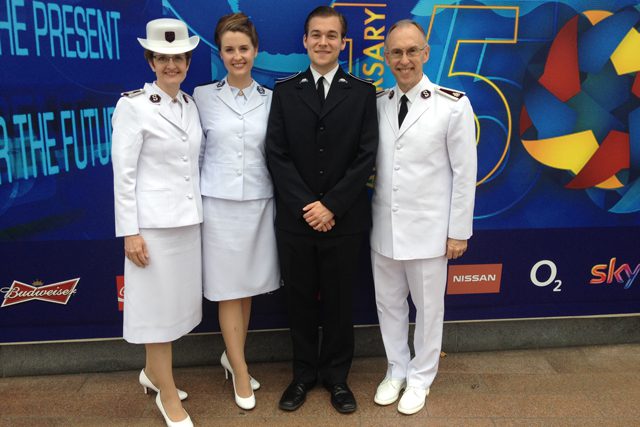 Hodders eye homecoming
Pair reflects on time in Kenya, opportunities ahead.
General André Cox appointed Commissioners Kenneth and Jolene Hodder as Western Territorial Commander and Territorial President of Women's Ministries, respectively, as of Jan. 1, 2017.
Currently serving as territorial leaders in Kenya West, the pair will succeed Commissioners James and Carolyn Knaggs in the USA West upon the Knaggses' retirement on Dec. 31.
"The Hodders are sterling Salvationists, prepared in heart and in global experience to lead the USA Western Territory. These are leaders we can all depend upon for holy direction and Godly personal example," James Knaggs said following the announcement. "The fact that they are products of our territory supports their awareness of our history and hopes to win the world for Jesus."
The Hodders were appointed in 2006 to serve in the Kenya Territory Territory as Chief Secretary and Territorial Leader of Women's Ministries, respectively. In his role, Kenneth Hodder assumed operational responsibility for the creation of the Kenya East and Kenya West Territories. Three years later, the Hodders were appointed to International Headquarters, where he served in dual roles as International Secretary for Personnel and as Legal and Constitutional Adviser to the General. He also served as a member of the International Moral and Social Issues Council. Jolene Hodder served as Associate International Secretary for Personnel and as Secretary to the Chief's Business Session. They were subsequently appointed as the territorial leaders for Kenya West in 2013.
For many, the Hodders' return to the USA West is a homecoming.
Commissioned in the Western Territory in 1988, the Hodders served in corps appointments in Glendale and Torrance, Calif., as instructors at the then School for Officers Training, and later as staff officers at Western Territorial Headquarters. In 1997, they were appointed to Atlanta, Ga., for three years as coordinators for the International Millennial Congress. Subsequently, they served at Southern California Divisional Headquarters in Los Angeles, and then as divisional leaders for the Cascade Division.
Both of the Hodders left their professions in 1986 and responded to God's call to service as Salvation Army officers.
Kenneth Hodder, who graduated from Harvard College and Harvard Law School, practiced corporate and real estate law in Los Angeles with the law firm of Brobeck, Phleger & Harrison. Jolene Hodder graduated from California State University, Los Angeles, with a degree in home economics (with a Certificate in Fashion Merchandising) after which she became a divisional manager for Carter, Hawley Hale.
The Hodders have one daughter, Jessica Fagerstrom, who holds a master's degree in International Educational Development from Columbia University and now serves as Creative Arts Director for the USA Western Territory.
As they pack and plan for the year ahead, the Hodders stopped to share more about themselves with New Frontier Chronicle:
What aspects of ministry are you most passionate about?
KH: I never fail to be moved by the transformation that comes about when an individual chooses to follow Christ. To see someone accept the Lord, knowing that their decision will impact generations to come, is very powerful. And then to witness the way a person grows in his or her spiritual life, touching others along the way, is one of the greatest privileges one can ever experience.
JH: I have a passion to see women grow into their greatest potential in Christ. I receive great joy when I see women thrive in their homes and family life and in their areas of giftedness.
How do you describe your leadership style?
KH: I suppose you could best describe it as "principled consensus." My goal is to solicit a range of views and then ensure that our decisions align with Scripture and the principles of the Army.
JH: 1 Corinthians 9:19 states: For though I am free from all men, I have made myself a slave to all, so that I may win more (NASB). That is the goal of my leadership. The servant-leader puts the needs of others first. Instead of hording power he/she shares it with others so that everyone can develop into the person God created them to be.
How has your background prepared you for this role?
KH: My wife and I were trained as officers in the Western Territory. This is our home. But I also hope that our service over the last 11 years in Kenya and at International Headquarters will give us a unique perspective on the "One Army" to which all Salvationists belong.
JH: To be quite honest, I have never felt prepared for a new appointment. However, I do know that God has chosen this assignment for me, and I couldn't be happier. So I will be faithful to his call. I will work hard for the kingdom and will look forward to experiencing his miracles in my life and in the territory.
What surprises you about The Salvation Army? What are your hopes for it?
KH: As a movement, the Army is a source of constant fascination to me. The scope of its spiritual and social ministry, the wide variety of ways in which it is working around the world, never fails to surprise me. As he gives us all of these opportunities, my prayer is that God will always find us faithful.
JH: It amazes me that people all over the world have a great love and respect for the Army. We are just a bunch of flawed people, saved by grace, trying to do what we can to build the kingdom. If it weren't for God's blessings, the Army would have died out long ago. My hope for the Army is that our light will not get any dimmer, but instead will become brighter, attracting all walks of life to join us in our mission.
What is your impression of the Western Territory?  
KH: There is no question that the West is a dynamic, highly innovative territory composed of deeply committed men and women. So there are many reasons to be proud of it. But I have been particularly pleased to see the way in which our territory uses every available tool to reach people for Christ. That's precisely what William Booth did, and I hope we'll continue along that path in the future.
JH: While I have been away from the USA Western Territory for 11 years, its reputation is well known throughout the world. It is known as innovative, vibrant, and incredibly generous.   
Who are you as an individual?  
KH: I am a voracious reader, particularly when it comes to history, biography, and theology. I also try to stay in shape by walking long distances every day. In terms of sports, I am looking forward to renewing my status as a big fan of the NFL.
JH: My personal credo that I live by is:
I, Jolene Hodder, have been carefully crafted by the Creator of the universe solely for His purposes. I have immense value. I will never belittle my capabilities and God-given gifts, but will instead endeavor to strengthen them as I grow into the woman He created me to be.
God has given me a strong, healthy body. Health and strength are precious gifts not to be taken for granted. I will treat my body with respect, eat healthily, rest adequately, and exercise regularly, so that I will be fit for service.
Christ gave His life for me, a shameful sinner, on the Cross. I am loved unconditionally. In order to attract others to the Lord I serve, I too will give my life to love with radical abandon.
God clearly called me away from my corporate career into ministry through The Salvation Army. I am where God wants me to be. Therefore, I must never look back or too far forward, but instead, I must focus on the opportunities I have right now for ministry.
God has graciously chosen a family just for me. He has entrusted me with this precious gift. I will do all I can to keep Christ at the center of our home.
God has given me a life full of amazing adventures. I have traveled through dark valleys and scaled glorious mountaintops. I have seen how His perfect plan has shaped me. Consequently, I will continue to travel boldly the road mapped out for me.
My Heavenly Father has been nothing but faithful to me. My future is safe in His hands. So I will be faithful to Him whatever the future holds.
Anything else to share?
KH: We can't wait to see you. Pray for us, and pray that God will continue to work in and through the USA Western Territory.
JH: I can't wait to come home!