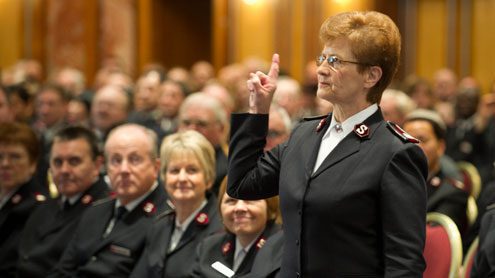 High Council announces general-elect
High Council confirmed that the new general-elect for The Salvation Army is Commissioner Linda Bond. Bond will take office April 2.
"I will put my trust in the Lord Jesus Christ. Our relationship with Jesus … makes The Salvation Army effective," Bond said via High Council's Twitter feed.
8:44 a.m.: The recording of this morning's live broadcast of the announcement from International Headquarters in London will be rebroadcast in one hour, approximately 9:45 a.m. PST. Click here to watch.
9:16 a.m.: International Headquarters posted the official announcement on its website. Read here.
11:34 a.m.: The original webcast of the announcement of the general-elect is up for viewing here.
Stay tuned for more updates on High Council and the general-elect.