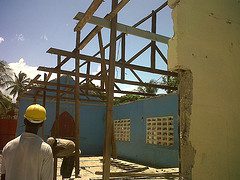 Haitian Students Return to Reconstructed Schools
Nearly 700 students started the school year in newly repaired Salvation Army school buildings. The Haiti Recovery and Development School Renovation and Construction team worked hard during the summer months to start, and finish, repairs on four of six priority schools scheduled for improvements in 2011.
Not only were project manager David White and assistant project manager Raymond Cédoine working hard to ensure schools were ready for the start of classes, but they were building local capacity by training a maintenance team in repair and upkeep of the buildings. The work included masonry and carpentry work, roofing, latrine and electrical repair and installation of water catchment systems.
Heavy rains contributing to impassable road conditions have slowed progress on schools in Bellegarde and Campeche, but work should be completed by Christmas. We have met many challenges and overcome them with everyday problem solving and great determination, said David.
By the end of 2014, almost 20 schools affected by the earthquake will have been repaired and reconstructed. There are seven schools slated for 2012, including two new constructions.
David said, We are excited about the wonderful repaired and constructed schools The Salvation Army in Haiti is receiving.
Report by Kara Langford