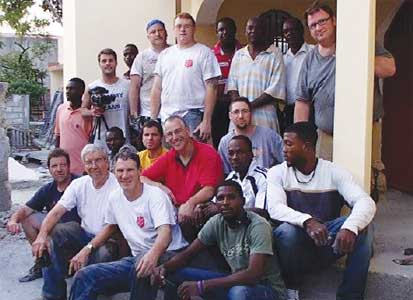 Haiti in recovery
Army continues to help rebuild after devastating earthquake.
A well-known Haitian proverb says, "Beyond the mountains there are more mountains," which can only begin to describe the trials posed by the catastrophic 7.0 magnitude earthquake that rocked Haiti three years ago and the damage caused by Hurricanes Isaac and Sandy last year.
When the Central Territory Global Mission Team arrived in Port-au-Prince in 2012 more than 90 percent of the rubble remained, hundreds of thousands of Haitians were living in tents, and a cholera outbreak was responsible for the deaths of more than 7,500 people.
This January, in contrast, the Global Mission Team found that just 20 percent of the rubble remained, the vast majority of the tent villages were gone, and cholera prevention programs and treatment are experiencing success.
The Haiti Recovery and Development Office has developed and implemented a comprehensive five-goal plan for long-term support, recovery, and rebuilding with pure water taking precedence at this time.
We could see that the organized effort of The Salvation Army is breathing new life and hope in the people it is serving and providing an increased positive outlook for the future.
The team attended the dedication of the new warehouse and observed the partially completed earthquake-proof school that will serve more than 1,500 students.
The corps in Port-au-Prince still has more than 1,000 soldiers and adherents and is replacing its earthquake-damaged building with a new building that will seat 3,000 people.
The Salvation Army in Haiti is following William Booth's injunction to "Go about doing good…in an effective and systematic way."