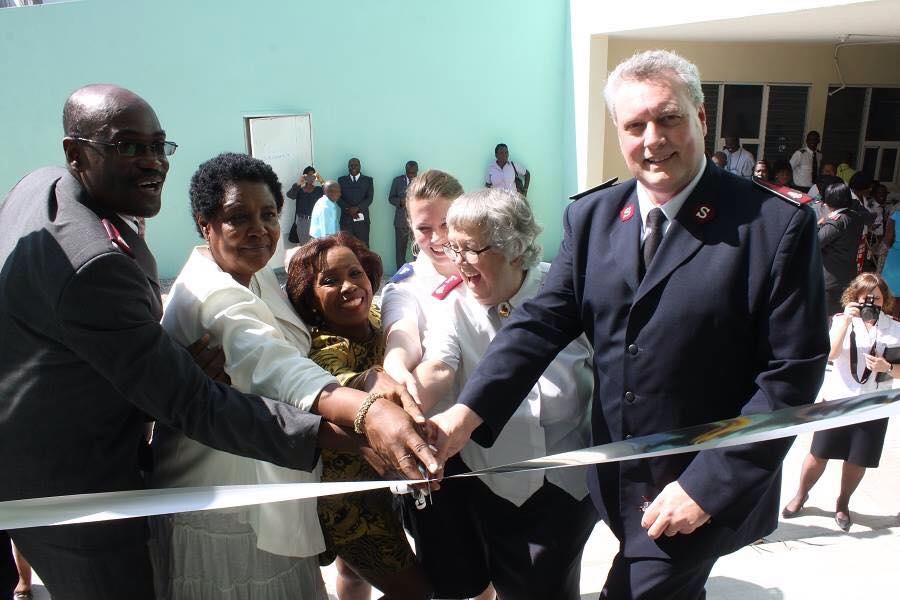 Haiti dedicates new clinic facility
Cutting the ribbon to officially open the new facility are Divisional Commander Major Jean Clenat, a public health representative, clinic administrator Dr. Danielle Prosper, and donor territory representatives Synnove Orsnes and Major Anne Kristine Herje (Norway), and Lt. Col. Lee Graves (Canada and Bermuda).
The Salvation Army dedicated a new social services building and medical clinic in Haiti on Jan. 12, the sixth anniversary of the catastrophic earthquake.
An Army health facility has operated in the slum area of Delmas 2 since 1972, playing a key role in primary health care for students of The Salvation Army's primary and secondary schools and the surrounding community. The clinic caters to a high-risk, low-income area and allows people to pay what they can afford.
The 2010 earthquake destroyed the clinic, but its doctors continued to provide emergency aid and medical care from temporary rooms in the school complex. The new facility was designed with anti-seismic features by a Chilean architect and was funded through the Salvation Army World Service Office (SAWSO), the Canada and Bermuda Territory and the Norway Territory.
"In the spirit of the strategy to 'Build Back Better,' this facility will better serve suffering humanity in this community with the love of God for decades to come," said Major Robert Doliber, Haiti divisional secretary for business.
Members of the divisional band led the dedication ceremony with the spirited "Joy in The Salvation Army."  Dr. Danielle Prosper was presented an award for her tireless service in the clinic over the years, a leader in the public health agency commended the Army for the work it continues to do to advance health locally, and one of the beneficiaries shared what the services have meant to her and her family. Major Stanley Griffin, territorial property secretary from Kingston, Jamaica, presented the dedication and challenge, followed by a prayer of dedication from Lt. Col. Lee Graves, secretary for business in the Canada and Bermuda Territory.
The new space will also house the Integrated Family Support project and the Vulnerable Children and Family Support program, which reach out to some of the most vulnerable local families with vocational training in various trades, microcredit and agricultural loans, business training, permanent housing support, and school tuition for children.