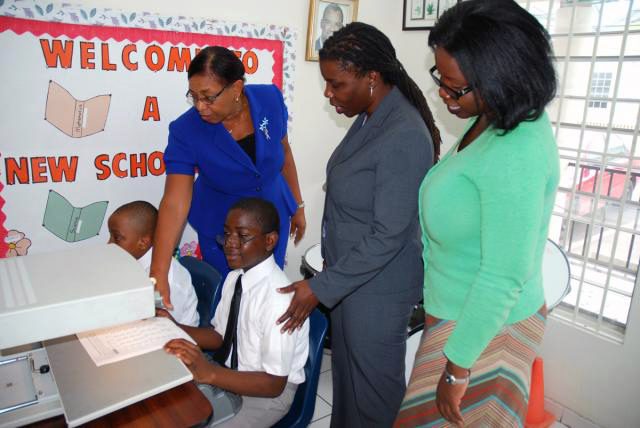 Graduate aims to teach
Four students graduated from The Salvation Army Erin Harrison Gilmour School for the Blind and Visually Impaired this year, and one set a goal to return as an instructor.
Ashanity Armbrister was one of four students in the 2015 graduating class of The Salvation Army Erin Harrison Gilmour School for the Blind and Visually Impaired in Nassau, Bahamas.
"I feel wonderful and proud knowing that I have achieved many accomplishments," Armbrister said. "I look forward to beginning a new chapter in my life and moving forward and closer to achieving my goals."
She plans to become a teacher at the school that helped cultivate her skills.
The school opened in 1949 to educate children in the community who are blind or visually impaired. Its mission is to provide quality education, individualized instruction, adaptive technologies and resources to enable its students to acquire knowledge, skills and attitudes to become independent and productive members of society.
Led by principal Maria Deleveaux, the school currently educates 18 students who are unable to attend the regular school system. It is supported by The Department of Education through an annual financial grant, administrative assistance and curriculum development. Some students integrate in selected courses at regular schools, as well as participate in all national exams.
"I learned to play and love playing the recorder, keyboard and singing at school, which has led to many opportunities to perform [there]," said Armbrister, who became the first student from the school to pass six subjects at one sitting in the Bahamas Department of Education Junior Certificate Examinations.
"I hope the school will continue in its efforts as it has done for the past 65 years, assisting the students to reach their potential," Deleveaux said. "But most importantly to see the students working, if not employed by a company, for them to be self employed, [and] ultimately leading a fulfilling life in the future."
In addition to pursuing a career in teaching, Armbrister hopes to tap into her more artistic side.
"Now that I have finished school, I would like to focus on writing music, a short story and play," she said. "I have written five songs so far and look forward to the future."