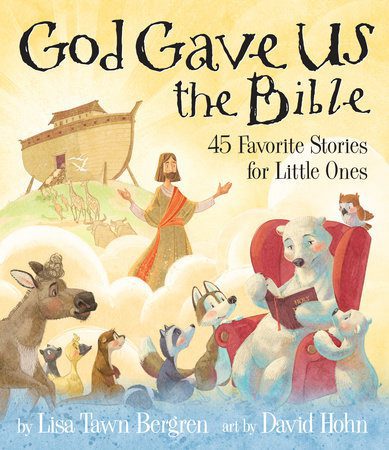 'God Gave Us the Bible' author Q&A 
Author Lisa Tawn Bergren has a new children's book, "God Gave Us the Bible," out for 3–7 year olds. Featuring 45 stories from the Bible, it is a Bible storybook from the creators of "God Gave Us You." 
This new addition to the series introduces kids to the story of stories—the love between God and his people. In it,  Little Cub and her animal friends reflect many of the questions young readers have about Bible stories. From Noah and the Ark to the birth of Jesus or Jesus feeding the 5,000, each story is told in a warm, conversational, reassuring manner.
You've been writing children's books for over 20 years now. How were you first inspired to write for children?
At the time, my children were little and I was reading them all sorts of "I love you" books, but I realized there wasn't one that incorporated God. One night God woke me up with the whole story—characters and all—and pestered me to get up and write it until I finally did at 2 a.m. Now, middle-of-the-night-big-ideas often seem lame come morning, but when I got up and read it through, I realized it might be something special. That book was "God Gave Us You," and it has outsold all my other books combined. And to think I almost slept through it!
Your "God Gave Us" series has become popular, selling 2.5 million copies. Did you ever imagine you'd have such a tremendous response from so many families in the U.S. and around the world from your children's books?
Never. It is so special to meet teens and young adults who grew up with my books and call them favorites. I'm honored to be a part of it, but really, my whole career has God's fingerprints all over it. He's the one who has opened doors for me; I just do my best to walk through them. 
"God Gave Us the Bible" is your newest book in the series. Why did you create this unique Bible storybook?
We've covered lots of topics in the God Gave Us series, from angels and heaven to love and thanksgiving. I wanted to introduce children who love these stories to the power of the biggest story of all—the Bible—and help them understand that they are each a part of God's plan, too. My heart's desire is that little ones know how very special each of them is to God, and that he really wants a real relationship with them. 
"God Gave Us the Bible" is your fourth "God Gave Us" book where you've partnered with David Hohn, who has contributed some wonderful illustrations. What is the process like for you working with an illustrator?
It's so fun to watch my ideas that I write down unfold in beautiful illustrations! My process is to write down the text first, divide it into what they call "spreads" in publishing, then give suggestions on what I see happening in the illustrations to complement the text. So far, David has more than exceeded my expectations.
How do you hope this book will encourage children and their parents?
You know, I've talked to a few adults who are looking forward to this book as much as their kids might be. So few of us really know the Bible in and out, but we have to start somewhere! Perhaps in reading this with their kids, families will be reminded of God's great love, and in learning about some of his people, I hope they're encouraged to get to know him better and represent his love better in the world.
---
Do Good: