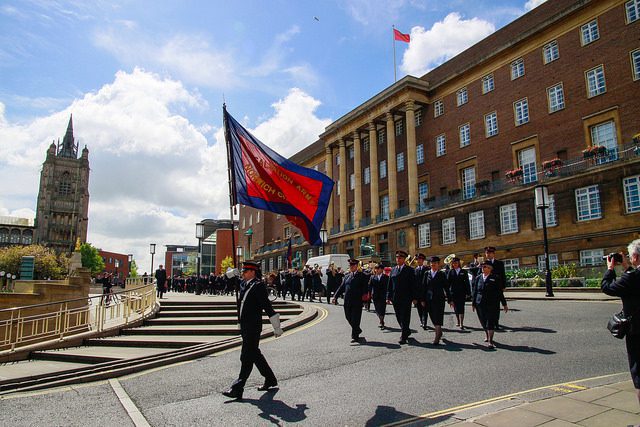 General and Commissioner Cox lead divisional event in Norwich
By Rosemary Dawson, Major – 
General André Cox and Commissioner Silvia Cox, world president of women's ministries, visited Norwich, United Kingdom, in late April to lead a divisional celebration.
As the flags of the corps and centers of the Anglia Division were marched in during the opening session, the General acknowledged each before Divisional Prayer Coordinator Val Chaplin prayed for all who made commitments to serve under these flags.
In his message, Cox warned against corps becoming "closed clubs." He emphasized the need to "reach up" to God in order to reach out.
Sunday morning worship featured a thoughtful prayer time by the Ozanne family from Felixstowe, and music from Norwich Citadel Songsters and Felixstowe Band and worship group. Presenting a retirement certificate to Felixstowe Bandmaster John Ranner, the General led the congregation in applause and recognition for the music leader's 46 years of service, adding that he owed much to men like John who had guided him as a young Christian.
In her message, Cox urged those present to focus on God's approval when making decisions about the direction of their lives.
The regular "church on the street" town center ministry followed the service.
During their visit, the international leaders met with retired officers and shared a discussion on prayer with young people, after which the division launched the "Change4Change" youth project to provide a new roof and water supply for Larteh School in Ghana.
Christiane Winterbourne (Sheringham), Tom Carr (Norwich Citadel) and Lt. Ben Selfe (Great Yarmouth) each testified to everyday struggles, challenges and victories in the development of their Christian experience and as they share the gospel.
The Sunday evening meeting recognized senior and junior soldiers and adherent members enrolled during the past year. The Cambridge Citadel Band, and the Peterborough Songsters and worship group provided music.
In his final message, Cox gave a salutary reminder of the need for credibility in Christian living. "The world's values may have changed, but God and his Word have not," he said.
As in all meetings, a call to prayer brought the renewal of commitments and the making of new ones—a fitting end to a busy and enriching weekend.
[gss ids="7486,7485,7484,7482″]