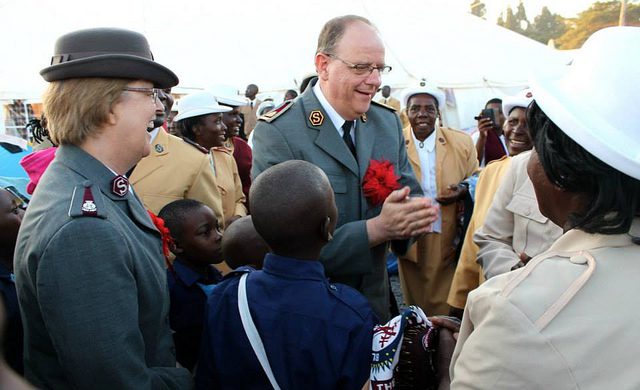 General calls for 'credible witnesses' during Holy Week
By Liveson Mushayakarere, Captain –
General André Cox's visit to the Zimbabwe Territory was an especially poignant one, as he was born in the southern African country in 1954. He and Commissioner Silvia Cox, World President of Women's Ministries, served in Zimbabwe for almost a decade, so this was indeed a coming home.  
On Palm Sunday, the international leaders took part in a joyous celebration with Salvationists and friends in Bulawayo. The General encouraged the crowds who had gathered to consider what Jesus had given up and to live their lives accordingly. "Do not take the sacrifice of Jesus Christ lightly…do not minimize it," he urged. His message was complemented by energetic music, singing and dancing from Matebeleland Salvationists.
Later in the week, the international leaders traveled to The Salvation Army's Howard High School and Hospital in Chiweshe, north of the Zimbabwean capital Harare. The Salvation Army compounds here are important parts of the local community, and the General was pleased to open the new O-level block and two new staff quarters buildings at the school. He praised the partnership of the Army and local government that has ensured the continuity of education at Howard since he was a young boy walking around its grounds.
[gss ids="7378,7371,7370,7377,7373,7372,7376,7374,7375,7369″]
Surgeon Dr. Per-Göte Lindgren briefed the General on progress being made at Howard Hospital. As well as touring a new medical facility due to open later this year, the international leaders took time to visit current in-patients and mothers with newborn babies on the maternity ward.
During a visit to Bumhudzo Hospital Home the international leaders heard powerful testimonies from residents of The Salvation Army's home for older people.
On arrival in Gweru for the Zimbabwe Territory's Easter Congress, the international leaders were conveyed by horse-drawn chariot as a large crowd of well-wishers marched to the civic center. The Coxes were formally greeted by the Minister of Provincial Affairs for the Midlands, the Honorable Jason Machaya, and the city's mayor, Kombayi.
More than 15,000 people gathered over the Easter weekend for a series of meetings, with many camping in an improvised "tent city." Separate men's, women's and young people's rallies were well attended, and enabled the Coxes to mix, mingle and enjoy fellowship with Salvationists from across the country.
The General counseled the congregation to denounce materialism and seek eternal things, to have a "spiritual backbone" and not compromise their Christian values. Speaking of the need for credible witnesses, Cox asked "do people really see Jesus living in us?" He observed that people should "not only hear the gospel being preached but see it lived out in the lives of those who claim to be Christ's followers."
In his concluding message, Cox again pointed toward the life-giving power of the cross. "We are a resurrection people," he proclaimed before exhorting fellow Salvationists to "make a difference in this world through prayer and service."