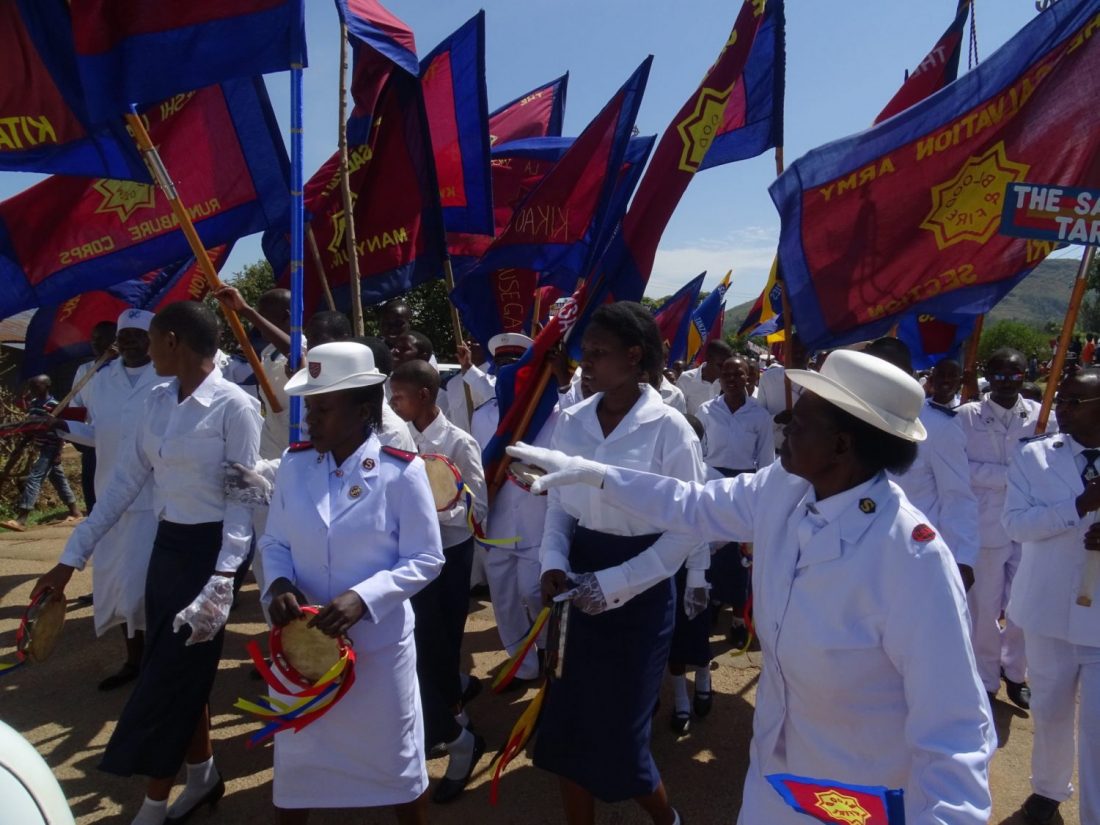 General visits Tanzania
Thousands of Tanzanians arrive to welcome international leaders
By Ann-Christell Kvern Slomp –
[gss
gallery ids="17457,17462,17459,17460″]
An enthusiastic delegation of Salvationists greeted General André Cox and Commissioner Silvia Cox, world president of women's ministries, the moment they arrived at the airport—just past midnight—in Dar es Salaam for a five-day visit in Tanzania.
The following day, the Coxes toured the territorial headquarters compound before leading officers councils for cadets and officers from the southern region. In response to the General's Bible message, 74 people knelt at the mercy seat.
In the afternoon, representatives from the territory's anti-human trafficking program presented on the impact of the project and the challenges Tanzania faces concerning trafficking. Then a meeting with students from Matumaini School for Children with Disabilities included a self-written drama, a fashion show with traditional costumes, traditional dance and timbrels. One girl offered a devoted prayer for the General and Commissioner Cox.
The day closed with an intimate meeting for the 17 cadets of the Messengers of Light Session. The international leaders talked about The Salvation Army's internationalism and encouraged the cadets to remain strong in the Lord.
The following day, a meeting with British High Commissioner Dianna Melrose was followed by lunch with Bishop Dr. Alex G. Malasusa, the presiding bishop of the Evangelical Lutheran Church in Tanzania, who represented the Christian Council of Tanzania. After lunch the international leaders met the Swiss Ambassador, Florence Tinguely Mattli.
An excited group of Salvationists and friends greeted the leaders at the new Dar es Salaam Central Corps. Having presented a new corps flag and dedicated the building to God, the General challenged the congregation that The Salvation Army's work is to get out of its beautiful halls to spread the gospel.
At a youth rally that followed, Silvia Cox explained that God works through children and young people. She emphasized that they were not just the future of the Army but that they were vital for today as well.
The following day, the pair traveled to Tarime, in the north of the country, where more than 1,000 Salvationists and friends gathered for a public meeting during which 144 soldiers were enrolled. A women's ministries rally, men's rally and youth rally followed.
On Sunday morning, 700 uniformed Salvationists from across the southern region marched along the sandy road from the headquarters compound to the public holiness meeting. The hall overflowed with a congregation that worshipped God through singing, dancing and music. The General impressed the crowd by coming down from the platform to join them in dancing. During the meeting five young adults were enrolled as soldiers.
The day concluded with the General leading a men's rally while Silvia Cox, dressed in territorial costume, led the women's ministries rally.