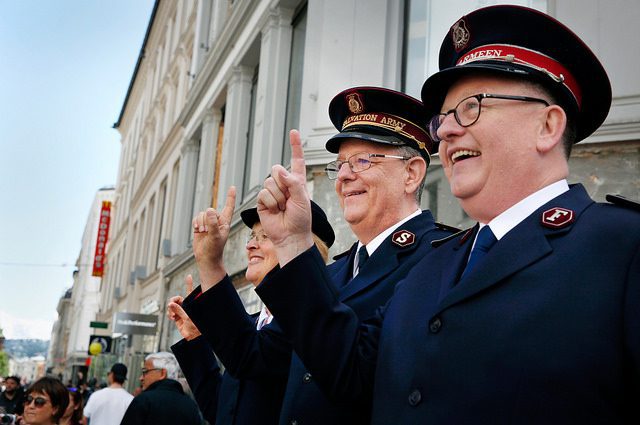 General leads territorial congress in Oslo
By Andrew Hannevik –
"I'm an optimist," General André Cox told Salvationists and friends from the Norway, Iceland and the Færoes Territory. "I believe our best days are ahead of us." He reminded delegates to the territory's annual congress in Oslo, Norway, that for this to become true, Salvationists need to be out in the community as witnesses and proclaimers of the gospel, loving and serving people.
From early morning until late into the night, the four day congress was a celebration of fellowship and blessings, with inspiring, thought-provoking and challenging messages from the General and Commissioner Silvia Cox, World President of Women's Ministries.
Special guests included Regent Hall Songsters and the male-voice group Four Hymn, both from the United Kingdom Territory with the Republic of Ireland, worship band Kongsgata, the M-band, the territorial band and Oslo Temple Band.  
On Friday morning, the General visited the Royal Palace for a private audience with King Harald V of Norway, accompanied by Silvia Cox and Territorial Commander Commissioner William Cochrane. Later, the international leaders met with the territory's active and retired officers.
The Mayor of Oslo, Marianne Borgen, visited the congress on Saturday and took part in a special meeting, which revealed the wide range of Salvation Army work and ministry through video presentations and interviews. Lay employees and volunteers of The Salvation Army were especially invited to this meeting. The mayor spoke of the importance of volunteer work and her own involvement as a volunteer for The Salvation Army and other groups. She has already signed up to be a volunteer at the Homeless World Cup, which The Salvation Army is hosting in Oslo from Aug. 29 to Sept. 5, and she urged everyone present to do the same.
The congress also included a march of witness, women's breakfast, meeting for seniors, seminars and several concerts. A youth congress and a children's congress ran parallel with the live-streamed public meetings until, in the final meeting on Sunday, all generations joined in a creative and engaging afternoon for all the family where they were encouraged by Silvia Cox not to leave the congress without accepting the assurance that Jesus lives in his followers.