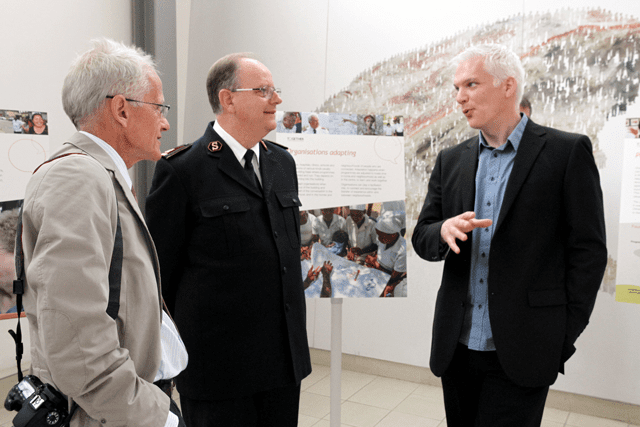 General launches film at IHQ
The Salvation Army, led by General André Cox, helped to launch "Together – A Journey of Neighbourhood Conversations" (#TogetherFilm) at International Headquarters.
The film follows Salvationists Dr. Ian Campbell and Alison Rader Campbell to four communities in China, India, the USA and Zambia to demonstrate the power of families and neighborhoods working together to overcome their problems with the Church playing its part through integrated mission and encouraging community conversations. The stories from India, Zambia and Atlanta, Georgia, included Salvation Army ministry.
Cox said the new film shows that "in every situation there is hope." He told the audience that it "sits well with The Salvation Army because we are a people of hope—we believe in transformation." The premier was attended by many officers and employees from IHQ, along with guests from a number of faith-based organizations.
Introducing the film, Director Neil MacInnes shared some of its background, saying that he had been challenged and changed while visiting some extraordinary places.
A panel discussion, hosted by Martin Lee (former Director of Global Connections) considered some of the issues that came up in the film. Panellists included Commissioner Birgitte Brekke-Clifton (International Secretary for Europe at IHQ), Naar M'fundisi-Holloway (UK Territory with the Republic of Ireland), Ted Lankester (co-founder of Interhealth) and Ron Irwin (Echo International Health Services Ltd).  
The General said he was struck by "how poor we are in the West" because of the lack of a sense of community. He also highlighted the wealth found in strong communities and commented that much of the world needs to reconsider what is important. "What makes a nation great is not amassing wealth," he said.  
Before guests enjoyed an IHQ exhibit featuring his photos, Ian Campbell thanked those involved in the initiative and encouraged everyone present to "be salt and let the light come."
Find the film at affirmfacilitators.org/together.