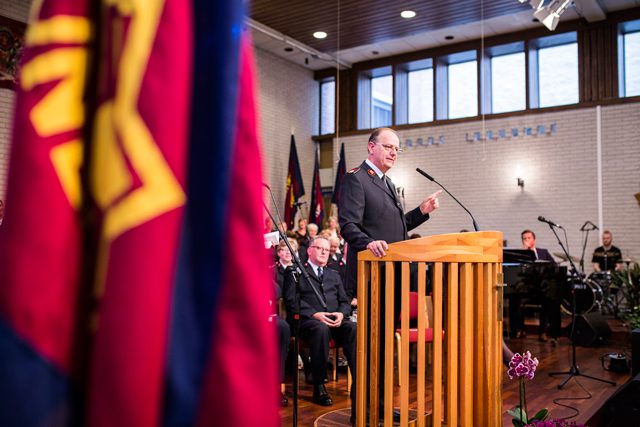 General installs Norway, Iceland and The Færoes territorial leader
By Andrew Hannevik –
General André and Commissioner Silvia Cox, World President of Women's Ministries, traveled to Oslo, Norway, to install Commissioner William Cochrane as leader of the Norway, Iceland and The Færoes Territory during a Sunday morning meeting at Oslo Temple Corps.
The General gave the congregation a warm and personal presentation of Cochrane, thanking him for being a good colleague over many years. The congregation stood and the commissioner knelt to be formally installed as territorial commander by the General, who brought the moment to God in prayer.  
In his Bible message, Cochrane urged his listeners not to put their trust in him, the General or The Salvation Army, but in God. He urged the congregation—and people across the territory who were watching via live stream—to be visible Christians and to take every opportunity to witness.
"We must bring Christ to the people and people to Christ," he said.
Oslo Temple Band opened the meeting with the march "The Ambassadors" before the congregation joined in with the opening song "Who is on the Lord's Side?" or, as the Norwegian translation puts it, "Who will Serve the Lord?" Major Marit Skartveit gave a vocal solo, the Oslo Temple Songsters sang and a vocal group contributed a couple of Cochrane's favorite songs, including "Be Still my Soul" with soloist Hannah Borrett.
Among the many greetings for the new leader were words of welcome by Knut Refsdal, representing the Norwegian Council of Churches, and Major Solfrid Bakken, who gave a greeting on behalf of the territory.
After the meeting, congregation members met Cochrane and shared in cake and coffee.