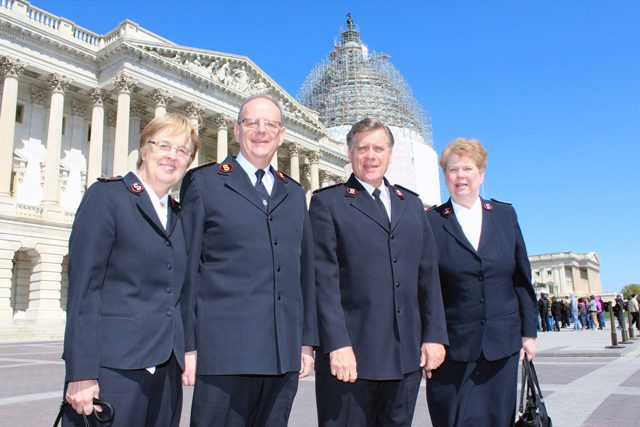 Coxes visit NHQ, White House and Asbury
By Allen Satterlee, Lt. Colonel –

The Salvation Army international leaders General André Cox and Commissioner Silvia Cox, world president of women's ministries, visited the Army's U.S. National Headquarters (NHQ), the White House and Asbury University recently.
Beginning in Wilmore, Ky., the Coxes took a personal tour of Asbury University, including the Andrew S. Miller Communications Building and The Salvation Army Student Fellowship Center (SASF).
Asbury University, which describes itself as a "Christian Liberal Arts University in the Wesleyan-Holiness tradition," has a long association with The Salvation Army and runs some courses specifically for Salvationists and officers. Retired General Paul A. Rader served as president of the then Asbury College from 2000 to 2006.
The next day more than 1,500 students, faculty and friends crowded Hughes Auditorium to be greeted by the SASF band and songsters. Introduced by National Commander Commissioner David Jeffrey, Silvia Cox read Scripture and shared a word about God's faithfulness through the years. The General told the congregation always to acknowledge the pre-eminence of Christ.
"You may have hopes and dreams, but the ultimate goal is to take our place in the eternal kingdom of God," he said. "It's great to start well, to have motivation, but it's not how you start but that you finish well. The challenge is not in the words we say but in the lives we live."
The Coxes then visited NHQ in Alexandria, Va., just across the Potomac River from Washington, D.C. In a chapel service for its officers and employees, Silvia Cox shared that she had to learn to trust the Lord in all circumstances.
"Although I accepted Christ as a child, as a teen I had to ask him to come into my life again," she said. "I had to learn to trust him through his Word. I was like Thomas—I had to see to believe. It is not always easy to trust the Lord. But I have found that it is an exciting life to work for the Lord. And even now I am learning to trust more and more in his Word and to thank him for whatever he is doing."
The General echoed her thoughts.
"I love to visit headquarters around the world," he said. "We know the joys, the frustrations and the importance of this work. We are not just supporting the frontline mission but finding new resources, establishing partnerships. That is why we must serve with our whole hearts. Don't be afraid. Don't be discouraged. Focus on the almighty God. God will see us through to victory, but not always the one we were expecting!"
After a call with the chaplain of the U.S. Senate, Rear Admiral Barry C. Black (Ret.), and the chaplain of the U.S. House of Representatives, Father Patrick J. Conroy, the Coxes finished the day with a private tour of the White House.