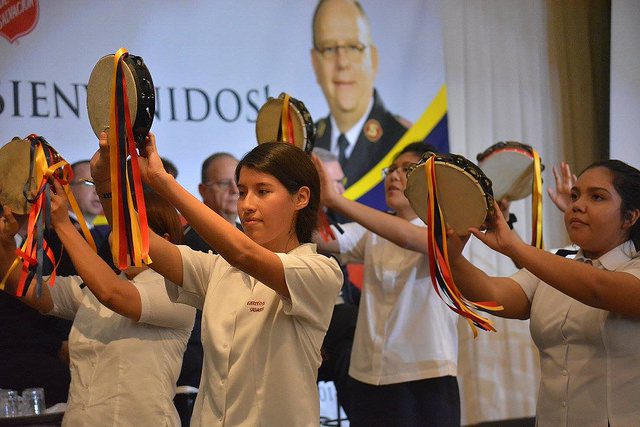 General Cox encourages in Spain
General André Cox recently visited Spain, where he was eagerly anticipated by Salvationists and friends from the Spain and Portugal Command.
Home to 36 corps, nearly 500 senior soldiers and over 100 junior soldiers, the Command formed in 2013, when Spain and Portugal officially unified.
The visit began at Palomeras Corps, where the corps officers and a team of volunteers were preparing for a biweekly food distribution to needy families. The General was informed about the ministry and took time to share in prayer with the packing and distribution team.
Accompanied by command leaders Lt. Colonels Gordon and Susan Daly, the General visited Valdemoro Corps, where he was met by a group of children singing a welcome song in English. In the evening, Salvationists from all around Spain packed Madrid Central Corps hall for a lively prayer meeting.    
The General later participated in a men's rally, which featured heartfelt testimonies, while Lt. Colonel Susan Daly, Command President of Women's Ministries, led a women's rally focusing on the international Women's Ministries theme for 2017: "Transformed Into God's Image."
An evening festival included cultural music and dance from around Spain and performances by a combined band, timbrels and youth chorus. The General later enrolled 26 senior soldiers, representing several corps in Spain. Long-serving soldiers and employees of command headquarters were also recognized for their service.
The final event of the visit featured a meeting between the General and several young people from the command. Captain Jenniffer Beltrán, Youth Officer, Spain, interviewed the General, drawing out details of his call to officership, before 12 young people posed questions to the international leader, focusing on topical issues and the challenges they face. The General answered the questions, thanking the young people for the depth of issues that had been raised, before offering a Bible challenge to conclude the weekend.   
Report by Lt. Colonel Gordon Daly