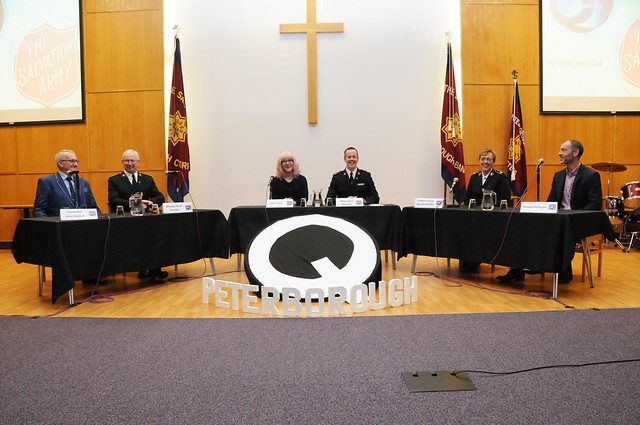 General, Commissioner Rosalie Peddle Lead Innovative Meetings in UK corps visit
General Brian Peddle and World President of Women's Ministries Commissioner Rosalie Peddle shared in a number of firsts during their Palm Sunday-weekend visit to Peterborough Citadel Corps in the United Kingdom Territory with the Republic of Ireland.
The weekend began with the opening of the Peterborough Citadel Corp's new Superstore and Community Hub in the city center. The General reminded the large crowd that had gathered of The Salvation Army's "active belief." After spending time talking informally to the gathered crowds, the General and Commissioner Peddle shared a meal with the retired officers who soldier at Peterborough Citadel.
The international leaders participated in a Q+A alongside the leader of Peterborough Council (Councillor John Holdich OBE), Steve Pettigan from Light Project Peterborough and the Chief Executive of Thomas Deacon Education Trust, Julie Taylor. The event was held at the corps hall on Saturday evening, and was chaired by corps officer Major Gary Chaundy.
Each panelist was given the opportunity to answer questions submitted by local church members. Panelists contributed from his or her area of expertise, giving the large crowd a lot to think about. The General closed the evening with a time of prayer that challenged those present to consider who their neighbor is and how can they show them the love of Christ.
On Palm Sunday, the international leaders took active roles in worship, and the senior and young people's music sections added to the celebration of God's goodness. Commissioner Peddle shared words of personal testimony, thanking God that she is a "sinner saved by grace." The General told the congregation, "Aren't you glad that Jesus didn't choose to just be king for a day, but king for eternity?"
Following worship, the whole corps shared lunch together, with the special guests spending their lunchtime with the corps youth group. The young people took the opportunity to ask the General and Commissioner questions, including how they met. One of the young people said afterwards, "I feel like he's my friend, not just the General!"
Another first for the Peterborough Citadel Corps followed, with the General, Commissioner Peddle and Lieutenant Colonel Deborah Sedlar (International Headquarters) leading three workshops to explain their own perspectives on the Salvation Army world. These were very popular, with each workshop containing a depth of insight that enriched all who attended.
The final session began with a time of affirmation and praise. The General presented long-service certificates to nine bandsmen, each of whom had completed more than 40 years of service. Commissioner Peddle then commissioned 12 new songsters before the the time of recognition and commitment was concluded by the General enrolling a senior soldier. There was much to thank God for.