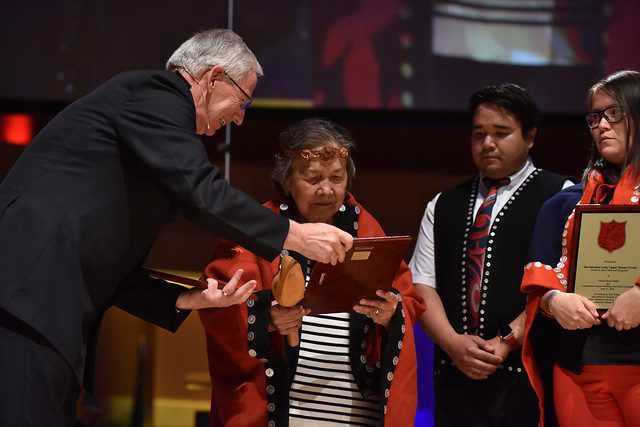 General and Commissioner Peddle lead Canada and Bermuda Congress Deck
By Pamela Richardson –
"God is calling us to do more," declared General Brian Peddle at the British Columbia Congress and Commissioning 2019 in Vancouver, Canada. "We, his people, have to be battle-ready."
The General and Commissioner Rosalie Peddle (World President of Women's Ministries), returned home to the Canada and Bermuda Territory to share with Salvationists and friends, and to lead congress events.
Friday evening's welcome meeting featured a tribute to National Indigenous Peoples Day, as indigenous Salvationists took to the stage for a dramatic presentation with drums and singing. The General and Territorial Commander Commissioner Susan McMillan unveiled a new Gitxsan Salvation Army red shield, which was approved by International Headquarters and will be displayed at corps in Gitsegukla, Sik-e-Dakh and Hazelton. Envisioned by indigenous Salvationist Alex Stoney and crafted by indigenous Salvationist Michelle Stoney, the design represents Salvation Army ministries within the Gitxsan Nation.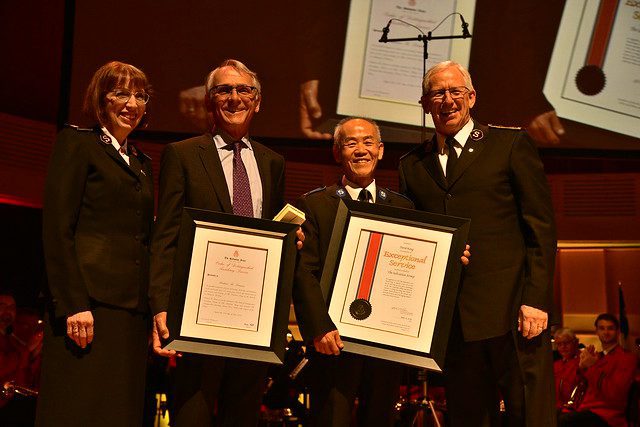 The General and Commissioner McMillan presented two individuals with special awards recognizing the contributions they have made to The Salvation Army. The Distinguished Order of Auxiliary Service was presented to Andrew Lennox, chair of the National Advisory Board, and an Award of Exceptional Service to Salvationist David Kang for his faithful ministry in Toronto and Korea.
 Music contributions from the Canadian Staff Band, the Mandarin Choir from New Life Church in Vancouver, the British Columbia Lower Mainland Youth Chorus and Regional Singing Company added to the weekend's celebrations.
On Saturday morning, delegates attended a prayer breakfast focused on the Canada and Bermuda Territory's four core values: hope, service, dignity and stewardship. Commissioner Rosalie Peddle shared her message of the power of prayer: "If we truly believe the words of Jesus and commit ourselves to fervent, passionate prayer," she said, "I believe there is no limit to what God can do." 
Later that day, 13 cadets from the Messengers of Compassion Session were ordained and commissioned by McMillan. "As Salvation Army officers, you will be called upon to put others first and to be intentional about mending a broken world," she told them. 
In his message, the General outlined what being a Messenger of Compassion means. "God is calling upon you to shine like stars in the universe," he said, "to permeate the darkness, to somehow bring the balm of Gilead to the brokenness of the world!"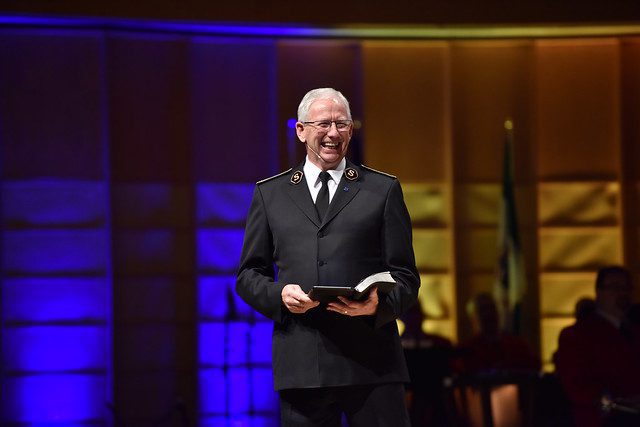 Other weekend events included a mission connection walkabout in Vancouver's Downtown Eastside, officers councils, a welcome banquet, a prayer walk, workshops, a family carnival and a youth event that gave young people the opportunity to spend time with the Peddles. 
A vibrant children's program challenged kids to be "secret agents" for Christ as they completed various "missions" during the weekend services.
The call to worship for Sunday morning's worship celebration featured young people from across the British Columbia Division sharing in one of the many languages spoken throughout the province, including English, Mandarin, Nisga'a, Spanish and French.
A highlight of the meeting was the enrolment by the General of more than 40 soldiers and junior soldiers.
In his message, the General encouraged those in attendance and the many people watching the weekend's events via live stream to "take responsibility" for growing the Kingdom of God. "Our mission is clear," he said. "We share Jesus Christ." 
Many responded to the General's invitation to kneel at the mercy seat to dedicate themselves afresh to God, allowing them to return to their corps and churches revitalized for mission and ministry.