From prisoner to pastor
Locked up in solitary confinement, Charlie Woods never expected to one day become a Christian. He certainly never envisioned a life as a church pastor. After all, he was never much for religion. Little did Woods know, he was about to receive a piece of mail from The Salvation Army that would change everything.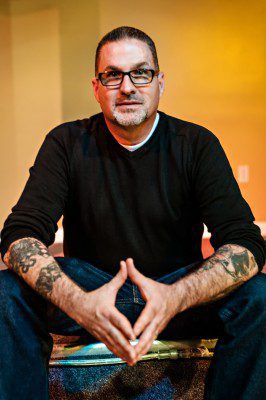 Born in Burbank, Calif., Woods found his way into trouble early and often despite being raised in a Jewish household, routinely dragged to temple by his mother.
"What I would do is sneak out of there and go hang around the deli across the street," Woods said. "That's how much I hated religion."
Woods' older sister became heavily involved with drugs and was placed in a juvenile detention center. He chose to emulate his older sibling's behavior, and it wasn't long before his experimentation developed into an addiction to methamphetamines. During his drug use Woods met and later married Ann-Marie, an addict with three children from a previous marriage.
Shortly before Christmas 1997, with a 4-month-old newborn son, Charlie Jr., at home, Woods was slated to appear in court for failure to pay a ticket for driving on a suspended license. When he failed to show up to court, the judge issued a $1 million warrant for Woods' arrest. He eluded punishment until he was caught jaywalking several weeks later and began a 365-day sentence at the now-defunct Men's Century Regional Detention Facility in Lynwood, Calif.
His stint behind bars took a turn several weeks into his sentence when Woods was placed in solitary confinement. Completely isolated, he hit rock bottom.
"They lock you up for 23 hours a day," Woods said. "That gives you one hour a day to get out."
A guard delivered his mail one day, including a package from The Salvation Army. Inside was a Bible and the Army's Bible Correspondence Courses, sent to him upon the suggestion of Ann-Marie's mother. He didn't think much of it, at first. But slowly, his curiosity mounted, and before long, Woods couldn't put down his Bible.
"As I started doing these courses," Woods said, "I could tell it was God's working. I developed a hunger, and that year I read the Bible three times through."
Since 1947, The Salvation Army's Extension Studies Bureau has offered free Bible study courses to inmates across the country as well as their families. The courses—offered at elementary, intermediate and advanced levels––are designed to help the reader systematically navigate through the Bible and apply the concepts and teachings using a fundamental approach.
Bob Zerhusen, assistant to the director of extension studies in the Western Territory, likened the courses to the Parable of the Sower (Matt. 13).
"Our studies are very evangelistic," Zerhusen said. "We're planting a lot of seeds. Some of the inmates are re-dedicating their lives to Christ and some are doing the studies, but doing them for the wrong reasons. Then there are some that have never read any Bible. Those are my favorite. If you get them into the Bible, the potential for change is unbelievable."
The lessons are returned and graded by volunteers, and the inmates are awarded a certificate upon completion of each course. Inmates who complete the entire series of courses with a 70 percent average receive a final certificate. Volunteer graders often write feedback for added encouragement. Woods said it was this type of small gesture that allowed him to see that The Salvation Army was a genuine organization that truly cared about him.
"You never know how much it matters," Woods said. "They would write little notes that said things like 'Good job!' I felt they really cared. As crazy as it might sound, in [prison], you have nothing. You feel worthless, but even those little, two-word notes can make you feel a little less worthless."
But, Woods' enthusiasm dwindled after he was released from the detention center, and he began to drift.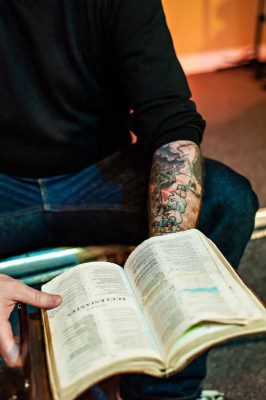 "When I got out of prison, I wasn't plugged into any church," he said. "I started smoking a little more, praying a little less. Pretty soon, I wasn't praying at all."
It wasn't until Woods crossed paths with Rob Stoffel, a pastor at Calvary Chapel South Bay, that he was invited to attend a Sunday worship service at the church. Though he and Ann-Marie were finally sober, organized religion was still not something he was ready for.
"I remember them saying that anyone can be redeemed, even if you're this or that or tattooed. Just the word 'tattooed' really resonated," said Woods, who has garnered a museum worth of body art over the years. "I realized that if that's what this is about, God is really real. It was that simple. My heart told me to come back to Calvary."
Before long, Woods became an invaluable member of the church and arose as a leader in the congregation. Consequently, he enrolled in Calvary's School of Ministry.
"As I started getting involved with the Calvary School of Ministry, everything I had learned in The Salvation Army courses came flooding back into my head," Woods said. "The things I learned in those courses are still the foundation of my walk today."
Woods completed the program and was selected as an associate pastor of the church. He is now paying forward the same love and encouragement he received from The Salvation Army when he was behind bars. He leads a high school ministry team, consoles victims of tragedy through prayer, and ministers overseas, but it's his work with Free Indeed––a ministry program to help overcome addiction—that's given him the biggest opportunity to give back.
"Over the last nine years, I've watched people grow in the program," Woods said. "Because I went through [the same things], God's using me to help them through. I was a dirty, rotten, lying, cheating, dope fiend, but he sent his Word to heal and deliver…And for me, it all started with those Bible courses."