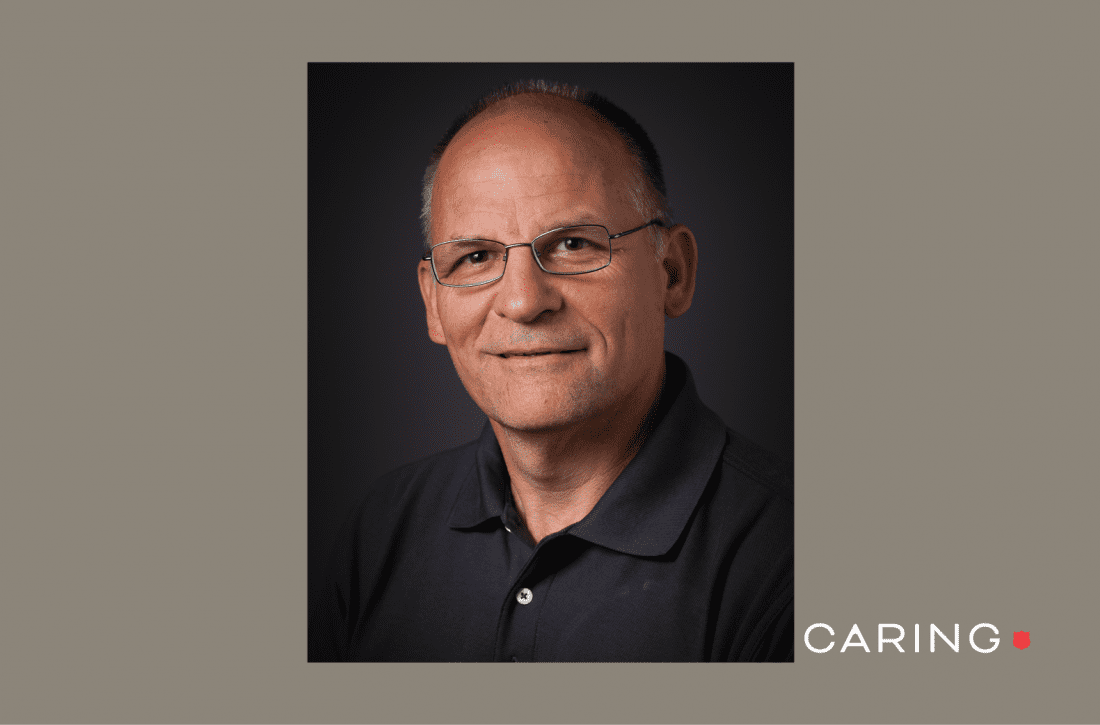 For Salvation Army employee Randy Haan, his work in IT is ministry
Information Technology employee helps The Salvation Army 'do the most good.'
Randy Haan knows he might lose people when they ask what he does for a living. Usually, he simply says, "I manage IT." If they already know he works for The Salvation Army, he will say, "I keep their computers working." He could say a lot more though, having had a connection with The Salvation Army since age 11. He's been a Salvation Army employee since his teen years, when he worked in a thrift store in The Dalles, Oregon, and he currently serves the Western Territory as its Infrastructure Director, working from the Portland, Oregon, metropolitan area.
Portland is where his journey with TSA began. Haan remembers learning an old folk song, "Salvation Army, put a nickel on the drum," from his sister when he was about 8 years old; they would sing it on long car rides. When he was 11, he first set foot in a Salvation Army corps, which he said he counts as one of the "true miracles of my life."
At that time, Haan lived with his mother and his stepfather, a rock musician who was addicted to drugs. The family never had enough money—it was going to drugs—and his parents fought constantly. Haan slept in a room with no electricity, in a sleeping bag on an army cot with a candle above his bed for light. He would hide in his room or on the roof when his parents fought.
"It was just plain scary," Haan said. "One night after a particularly bad fight, my mother came upstairs into my room crying, kneeled on the floor and put her head in my bed sobbing. I remember holding her head as she cried, and I prayed to God, 'God—please help my parents.' I had gone to Sunday school enough when I stayed with my birth father, so I knew about this God thing and that was the only thing I knew to do."
A series of synchronicitous events led the family to a Sunday service at the Portland Tabernacle Corps. They had received heat assistance thanks to The Salvation Army, and soon after a tract was left on their door. It mentioned the corps' brass band, which intrigued Haan's stepfather.
"We walked the nine blocks from our house to the Portland Tabernacle," Haan said. "When we walked in the front door people were all in these police uniforms, I thought. Great, this isn't church; this is a reform school. Of course, my stepdad, who got off work at about 3 a.m. and probably was still high on drugs from the night before, marched my mom and I right up to the very front row and sat us down. It was the most awkward feeling an 11-year-old could have. Then the band played. Wow, life was never the same after that. [Later his parents became Salvation Army officers.] That is how I came to know The Salvation Army."
So began a relationship that continues to this day. Caring magazine asked Haan about his work with The Salvation Army.
Caring magazine: Describe a moment in your early life that deeply influenced you and in some way perhaps led you to the work you do today?
Randy Haan: When The Salvation Army began to automate and computerize, I was asked to help them with this initial challenge. At the time I think I felt indebted to The Salvation Army and thought "What the heck—I can do this for a couple of years and get them on their feet." Forty years later I am still working on that goal. For me, one of the most striking moments that made me feel that I was where God wanted me to be was arriving late to an officers' council in 1986 in the middle of a computer finance session. When I walked in the door every individual cheered that I had made it and most likely felt there was a chance they were going to get through this terribly challenging technological transformation. 
CM: What is one way you identify with what The Salvation Army brand promises— "doing the most good"?
In my 50 years of association with The Salvation Army I have seen miracles, not just my own, but miracles in so many other people's lives. In my territorial position since 2005, I have had the opportunity to visit well over half of all facilities The Salvation Army operates in the West, from El Paso [once part of the Western Territory] to Guam and in each area the work of The Salvation Army is adapted to those needs…It has always been the challenge to accomplish the most to meet the needs of the people in the most need with minimal resources…After I started in IT, it was how do we move install, train and maintain complex information systems with very few resources. I know I am not alone in this and that so many of the individuals in The Salvation Army have that same drive and desire to let the love of God be seen through tireless pursuit of the efforts we invest in the communities and people in need.
CM: What are some highlights from your 40 years with The Salvation Army?
RH: Since 2005 my sole focus has been unification and standardization…In just the last few years the Western Territory has seen over $1 million dollars a year in savings just in telecom expense savings from hosting some 5,000 phones in over 300 sites. With this we can leverage wholesale pricing at a massive scale…Creating this hosted system, I knew 10 years ago [it] could save The Salvation Army millions and it is a realization that I am so pleased to see come to fruition and will continue to strive to lower those costs even more so we can indeed "do the most good."
There are many more milestones…As I look back on the years it all came down to one thing: you can never stop trying. That has been what has made the commitment to The Salvation Army worth it to me. We have done good and will continue to serve those who need it the most. However, beyond the technological accomplishments it is the people that have given me the most satisfaction. In every aspect and role I have served with The Salvation Army the mentoring of those who have worked for me or I have worked with and seeing them achieve more than they ever thought possible has kept me here.  Many have done exceptionally well and many have gone on to much more lucrative careers than they could have ever had with The Salvation Army.  For that I am grateful.
CM: How has the pandemic affected your work?
My house has become my lab and my garage a warehouse.  My family, especially my wife, is often annoyed with me because I test out technology that we want to deploy to the field at home before rolling it out in the field…Managing IT remotely is like teaching someone to program a VCR that you have never seen 2,000 miles away over the phone. Humans are social creatures. That is why we have societies and communities. Not being able to mentor one on one the IT staff we have is frustrating and has an impact on morale. I try to always turn my video on during conference calls, so people know I am real and not just some faceless voice. In fact, we just deployed a Cisco phone with video to Wrangell, Alaska, and I could call Lt. Jon Tollerud and have a face-to face-conversation—that does help. 
---
Do Good:
Read how this Salvation Army employee

helps youth

in his community.

Interrupt the free flow of junk email with something

good.

Get the Do Good Digest

. Just 23k+ people who

care

and get weekly inspiration sent right to your inbox.

See how you can get involved in the Fight for Good

with The Salvation Army.