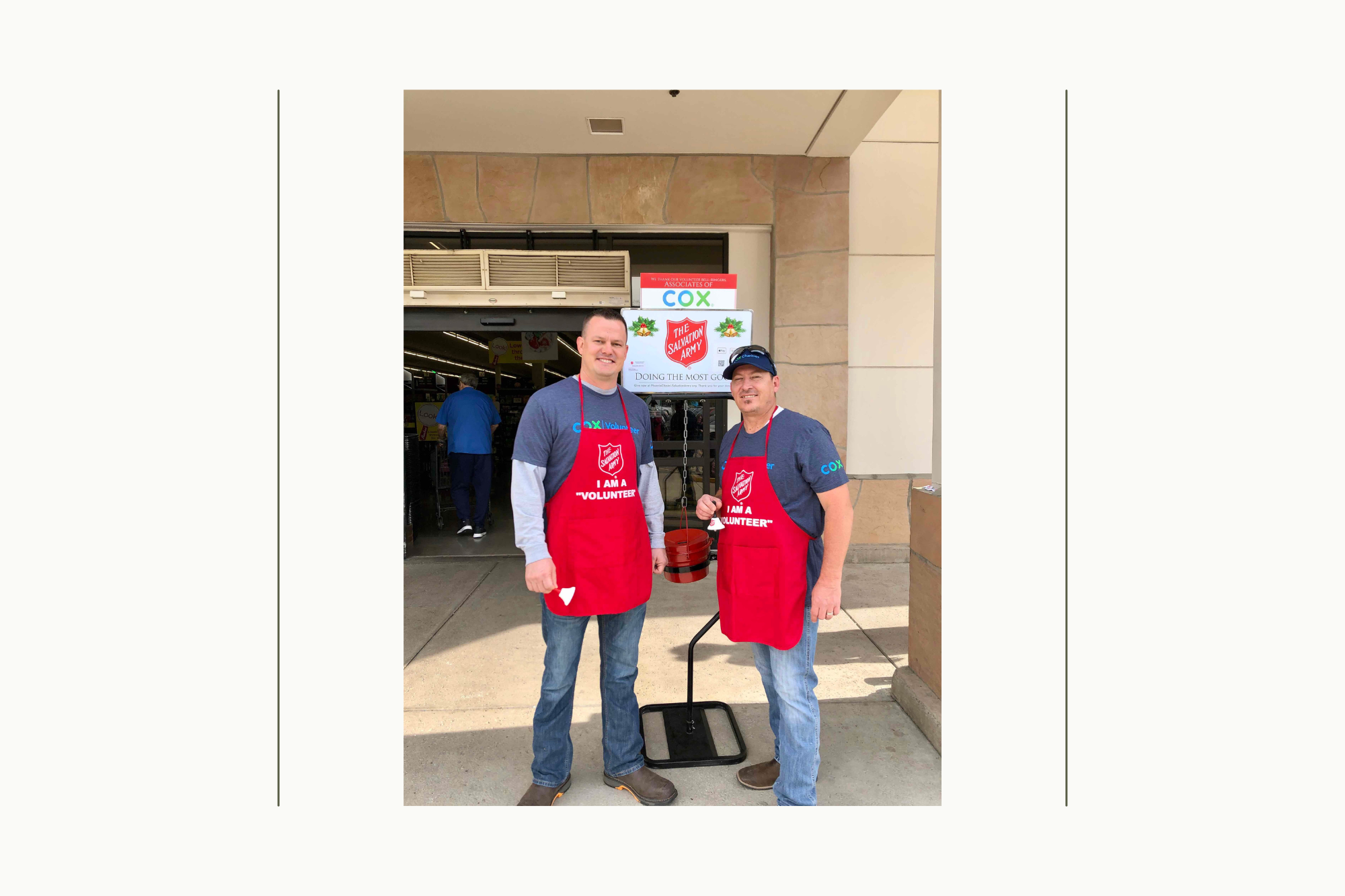 For one Cox employee, partnering with The Salvation Army is a 'full circle' moment
Yecenia Vasquez-Betancourt still remembers the Barbie doll she received as a child from The Salvation Army in Arizona. That year, she said, finances were tight, and her mom had turned to The Salvation Army for some of the family's basic needs and Christmas presents.
"As a little kid, you're kind of naive and you don't know. You look at Christmas as gifts and Santa. I think that was the worry—my parents couldn't give that to us that year," she said. "But when you lean into places like The Salvation Army, a present is not just a present. It could impact somebody."
For Vasquez-Betancourt, the impact of the Barbie was clear in her childhood; she recalled seeing the doll in photographs—it was clearly a favorite. As an adult, she remembered the doll recently when, as part of her role as Media Sales Service Specialist with Cox Communications, she, along with a group, presented The Salvation Army with a donation at an event.
"Being able to provide the funding on behalf of my company… it was a full circle moment at that point," she said. "I was just feeling grateful."
The check Vasquez-Betancourt presented is one of the ways Cox Communications has partnered with The Salvation Army in recent years. The company has given financially in addition to providing material goods and volunteers for more than 20 years.
"The generosity of Cox in supporting a wide variety of Salvation Army services and programs has been a true blessing," said Lt. Colonel Ivan Wild, Commander of The Salvation Army Southwest Division. "The company and its people deeply care about the Army's mission."
Vice President of Field and Maintenance Operations Shawn Duncan said it's all part of the company's emphasis on charitable giving. This year, Cox Communications' 3,100 employees raised $608,708 from employee-driven fundraisers and donations that were distributed to 126 Arizona nonprofits, among them The Salvation Army.
Duncan also serves as the Chair of The Salvation Army Metro Phoenix Advisory Board. He said he knew little of The Salvation Army until he attended the 125th anniversary event in Phoenix in 2018. Having served on other nonprofit boards in the past, he quickly connected with the Army's mission and got on the board.
"One thing I've learned as a leader is: As I do, others will follow. Others are looking to me to be an example… and I take that responsibility seriously," he said. "I can't think of a better organization than the Army that portrays that image, that example that I'm trying to give."
Duncan said Cox pays its employees to volunteer, and 10 percent of his employees' reviews are tied to volunteerism—he oversees more than 1,000 employees.
"Not only is it something that's offered, it's actually something that's expected from me," he said. "We need to provide and give in the communities that we live and serve."
And the opportunities to get involved with The Salvation Army have been abundant. Duncan said people have volunteered to sort toys for families and served as bell ringers at the kettle during Christmastime, among other activities.
"The Army's got a great story," he said. "It matches our mission and our company and our values."
---
Do Good:
You've probably seen the red kettles and thrift stores, and while we're rightfully well known for both…The Salvation Army is so much more than red kettles and thrift stores. So who are we? What do we do? Where? Right this way for Salvation Army 101.
You can make an impact in the Fight for Good with whatever time and skills you have. Whatever your interest, there is a you-sized need for goodness in the world. Get the guide on How To Be An Impactful Volunteer and get in the Fight for Good today.
Listen to what the red kettle symbolizes on the Do Gooders Podcast.