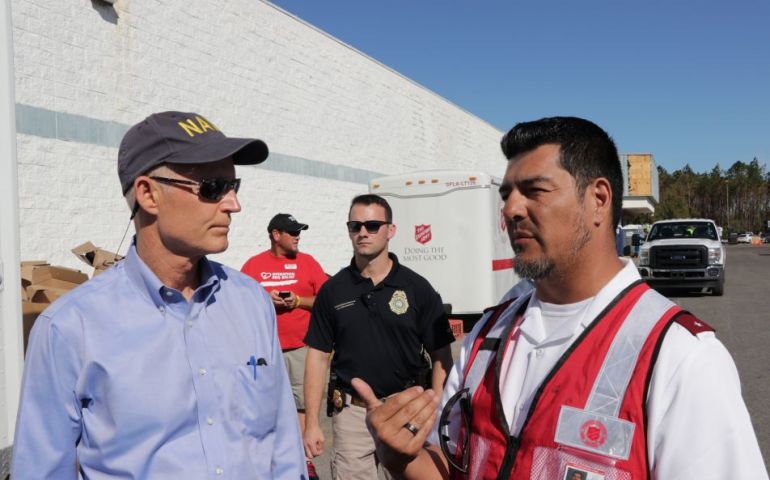 Florida Governor Rick Scott visits Salvation Army operation
By David Yarmuth –
Florida Gov. Rick Scott paid a visit to Panama City, Florida, Sunday, taking time to meet with Salvation Army mobile feeding crews and teams of volunteers.
Scott toured The Salvation Army's service hub where Operation Barbeque Relief has been preparing meals for more than 20 mobile feeding units serving the Panama City area.
The Governor's visit was a welcome sight for the hundreds of personnel who work at the hub each day, preparing more than 15,000 meals for distribution to Hurricane Michael survivors and responders.
Lt. Armando Acosta, The Salvation Army's mobile feeding coordinator in Panama City, spoke at great length with Scott about how the relief operation functions and how The Salvation Army's many great partners make it all possible.
The Governor had high commendation for The Salvation Army and its disaster response across the state: "You're doing very important work in this community and we appreciate all that you do."
The Salvation Army has been working closely with state and local emergency management throughout the Florida Panhandle and will continue to serve alongside responders to serve communities as they work to rebuild after Hurricane Michael.