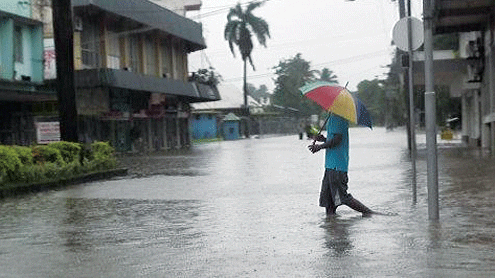 Flooding strikes Fiji again
The Salvation Army responded with evacuation centers and immediate needs
By Christina Tyson, Major
Salvation Army staff and volunteers worked in flood-ravaged Fiji as the island nation braced itself for a tropical storm predicted to intensify to cyclone force. A state of natural disaster was declared for most of the country's western area after heavy flooding killed four people and forced thousands to evacuate.
Army facilities in Lautoka and Nadi became evacuation centers and people took refuge in the Army's premises in Ba. Army staff and volunteers were deployed to assist in the emergency situation.
"The people of Fiji were already suffering after January's floods," said Major Iliesa Cola, divisional commander in Fiji. "These floods are much worse." Cola said there is continuous heavy rain and strong winds all around the country, with power cuts and no water supply on the western side of the main island of Viti Levu.
"This natural disaster will have terrible economic implications for our country, but at the moment our priority has to be for people's safety and well-being," Cola said. "Food, clothing, clean water and shelter are the immediate needs."
The Salvation Army in New Zealand launched an appeal to raise funds for the Fiji flood effort,  requesting financial assistance only, not donations of food or clothing, so the Army can assist the struggling economy by purchasing local goods to meet people's needs. Salvation Army corps across New Zealand continue to collect "love offerings" during Sunday services to add to the Fiji Flood Appeal.
"We greatly value the support and prayers of those outside the country to strengthen our efforts," Cola said. "It is already clear that a long-term response will be needed in those areas most affected. We will need all the assistance we can get at this time."
Donations can be made online atsalvationarmy.org.nz. Please specify that the donation is for the "Fiji Flood Appeal."