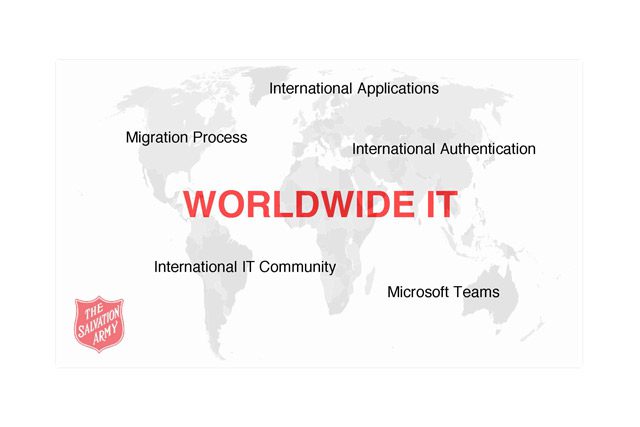 Salvation Army holds first global IT meeting 
"Technology for mission" was the theme of the first in a new quarterly series of online meetings for The Salvation Army's global IT teams. Introduced by Commissioner Merle Heatwole, International Secretary for Business Administration at International Headquarters, the interactive event included participation from Salvation Army IT practitioners from around the world. An identical meeting took place 12 hours later, to enable participants in every time zone to join in more conveniently. 
"We want to work together and make the future of our IT infrastructure something that we can all be very proud of, and something that we can see as providing a real benefit to the mission of The Salvation Army," Heatwole said.
Speaking on the significant and technically-demanding process of migrating the organization—with a presence in more than 130 countries—to using Microsoft's Office 365 product, project manager Mark Bennett provided a high level update. Currently 32,000 Office 365 mailboxes have been assigned, approaching half the number of the legacy Lotus Notes accounts. 
"I'm encouraged that the goal is every officer and employee having an official Office 365 account," Bennett said. "In each territory there are new people getting accounts, which is fantastic—we are connecting more people."
Lessons learned from the pilot implementations in places such as Italy and Greece, Mozambique, India South Eastern, Taiwan and The Salvation Army's Latin America North Territory were shared. 
"It's teaching us a lot about how we can make Office 365 work—there are lots of situations with low bandwidth connections," Bennett explained.
Demonstrating the power of connecting every part of The Salvation Army together, the next presenter was a remote participant. Clarence White, who directs IT for the USA Southern Territory, gave an overview of his role in liaison with Microsoft and the technical issue of ensuring robust international authentication for safe and secure access to applications. 
Tim Siney, Software Development Manager at IHQ, spoke next on plans to migrate legacy Lotus Domino applications into new platforms, taking participants through an easy-to-understand flow chart. 
Also taking part in the online meeting was Trisha McDonald, from Microsoft's Tech for Social Impact Team. 
"We're delighted to be working with The Salvation Army…and to help achieve mission through technology," she said. "Microsoft Teams offers the hub which facilitates real-time collaboration around the world." She also offered a glimpse of soon-to-be-introduced enhancements to the product, including live subtitling in numerous languages.
The 45-minute meeting wrapped up with an open question-and-answer session, providing an opportunity for delegates as geographically diverse as Japan and Moldova to seek updates, advice and technical information about the local ramifications of the technological changes ahead.