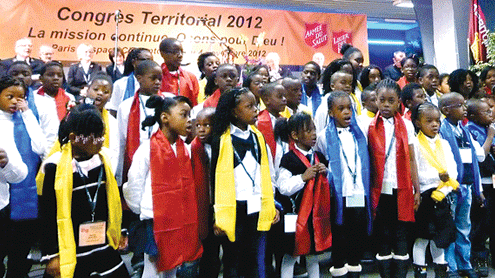 First-ever France and Belgium Territorial Congress held
Over 1,000 people gather in Paris.
The Salvation Army in Paris hosted the France and Belgium Territorial Congress Nov. 2-4, the first gathering of the two countries since they became a single territory in January 2009. Themed "The Mission Continues: Let's Dare for God!" the weekend event drew crowds of over 1,000 people.
Guest leaders included Chief of the Staff Commissioner Barry C. Swanson and World President of Women's Ministries Commissioner Sue Swanson.
On arrival, everyone received a jigsaw puzzle piece symbolizing that while all people comprise the big picture, each individual is important and all must fit together. Territorial Commander Colonel Massimo Paone asked everyone at the welcome meeting to consider, "What is my place in the mission?"
The meeting included presentations on the Army's ministry in Belgium and the five regions of France.
In his Friday night Bible address, Swanson emphasized that "commitment is not real if it does not lead to the mission of announcing the good news of Jesus Christ."
On Saturday, after separate meetings for men, women and children, more than 50 young people from Belgium presented the musical "MC," written and directed by Major Joël Etcheverry. The play portrayed MC's redemption, demonstrating what God can do in the heart of one man.
After a challenge to "prepare our hearts for the mission," the final meeting concerned "working together to continue the mission." As Salvationists, we are called to be servants who have no shame in inviting others to come to Christ's banquet.
Adapted from reports by Major Robert Muller and Major Corinne Gossauer