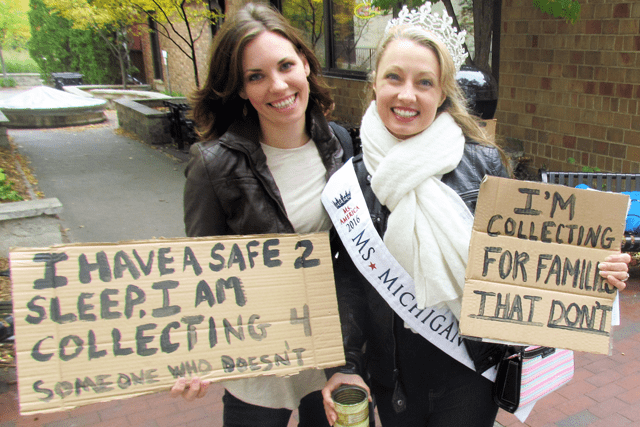 Facebook group 'sparks' pay-it-forward movement
Traverse City residents bring 'sharing economy' to social media to help hurting neighbors in northern Michigan.
By Jared McKiernan –
The post went up early one November morning.
"I'm trying to help a mom. She has two daughters and is expecting a son in January. She has a few items. The father left and she desperately needs: diapers, a Pack 'n' Play, bottles, bottle cleaner, wipes, a car seat cover and a stroller. Any help is appreciated. Thank you."
And one by one, the comments trickled in.
"I have an unused Pack 'n' Play she can have."
And another. "I have a play mat. And wipes."
And another. "I have a car seat cover and some soaps and lotions. I can bring them on Monday if someone can meet me at the Kmart parking lot?"
It's become a routine sequence in Traverse City, Mich., and neighboring communities—Person posts need. Others offer help. Person gets help. You'll see it play out on Facebook in a public group called "Spark in the Dark." The rules are simple: Be civil, offer only free items, take only what you need, and if you can, pay it forward.
Abagail Courtney, an e-commerce director by day, will tell you that's exactly what she had in mind when she started the group in fall 2015: to streamline simple, everyday acts of kindness and build community. "That's why God put us here," she said. "If you give people the chance to be good, they will step up." But not even she could have predicted the ripple effect it's caused.
What started with 52 people swelled to 350 the very next day, and now boasts over 1,600 members—everyone from single mothers to pastors to nonprofit employees. It's linked some to housing, connected others to job and volunteer opportunities, and given countless residents an intimate platform to directly donate their time and resources to neighbors in need. Courtney said it's not uncommon to see a Spark beneficiary later become a Spark donor.
"People can get so wrapped up in their pain and their struggles and their needs," she said. "But then they get on a group like Spark and they see something like, 'I desperately need baby clothes.' And they go, 'Oh, well I can help with that. I have a whole closet full of baby clothes.' And it changes them. Suddenly they're not the one hurting in that moment. They're the one helping. They realize how blessed they are, and that gives them so much encouragement."
As the movement garnered momentum, Courtney organized a face-to-face counterpart to the social media group. She wanted to rally a handful of volunteers to learn to crochet scarves for the city's homeless population. The only problem: her group of volunteers grew from four to 10 to 30 in a few days, and she didn't have a venue large enough to accommodate them.
Enter The Salvation Army. Courtney went to the Traverse City Worship and Community Center, and explained her conundrum to Edward Agee, Youth and Community Center Coordinator.
"She came in here and said, 'Do you guys have the space?' And sure enough, [The Salvation Army] ended up working out really well," Agee said. "Because of all the interest, she decided to keep doing it. So, it kind of became an extension of Spark in the Dark."
Every Friday from then on, The Salvation Army's community center began hosting "Crafting for a Cause," a life skills class that teaches volunteers a different craft each week and then donates the finished projects to a local charity or group of individuals in need. Since the initial meeting, the crafting group has assembled "Welcome Home" kits for those transitioning to permanent housing, created dog toys for a local animal shelter, and even cooked a batch of pastries for a Salvation Army youth fundraiser, among other ventures.
"Volunteering can sometimes be like applying for a job, with the background check, the application is often more detailed than getting a job at McDonald's," Agee said. "So, I think Spark in the Dark kind of becomes that bridge, where it's so easy to get involved. Just come and do a craft, and it'll go to somebody in need."
The Salvation Army subsequently adopted Spark in the Dark as an official program to help encourage safe donor transactions and connect more residents to the services they need.
"Spark in the Dark has really made an impact for a lot of people," said Captain Dawn Russell, Traverse City Corps Officer. "And thank God for [Courtney] just listening to that insight from the Lord. It's really taken off. And all that is, is just putting resources with people. It's incredible."
Jesslyn Agee, Social Services Supervisor for The Salvation Army, suggested that while Spark has helped raise awareness of The Salvation Army's programming, it's offered a shot in the arm to other groups too.
"People don't always know about the different services available until they ask for help or provide the help themselves," she said. "So I think people have gotten linked to passions in other nonprofits because of this, and now they're actually volunteering outside of Spark."
Courtney, who's also become an Advisory Board member for The Salvation Army, often facilitates the Spark donor transactions herself. She insists it's her "favorite part" of the process to see the generosity of those in her community firsthand. One story in particular, centers on a man named Rob, who lives in a small village outside the service areas of many local nonprofits.
Rob has undergone a host of surgeries, including hip replacements, and "his spine is basically metal," according to Courtney. He's wheelchair-bound and his health is deteriorating, but that doesn't stop him from doing what he loves: taking old, broken down bikes and re-welding them for children in need.
Recently, the roof on Rob's home trailer caved in, so a man named Tim, who owns a company called Classic Trailer Specialists, donated a new one and offered to restore it free of charge for Rob. But Tim lacked the money for materials, so a woman named Terri, who is a regular donor and volunteer on Spark, posted Rob's story and asked for assistance. She said she was posting on Rob's behalf because Rob would never want to burden others by asking for help himself. People on Spark then donated all of the money for supplies, and a few volunteers went out each Saturday for a month to help Tim retrofit the trailer with heating, insulation and plumbing.
Before Rob even got settled into his new digs, he called Courtney to make a request.
"He told me he wanted to write me into his living will so that when he dies or if he needs to go into a nursing facility, I could pass the trailer along through Spark," Courtney said. "Literally the only thing he has—which was given to him by someone else—and he's already looking to give that to someone too."
What's even more astonishing: the two have never actually met face-to-face. Courtney reflected on the unique capacity of her social media group. "Rob had no way to reach the people that could help him," she said. "It's incredible—this idea that you can help a stranger even though they're nowhere near you. You can change somebody's life and have never met them."