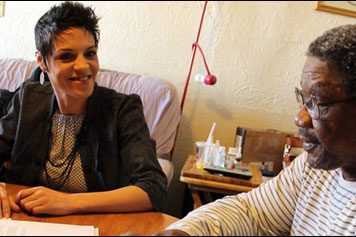 Eviction Diversion program continues after successful first year
The Salvation Army in Wisconsin works to keep families in their homes.
By Julie Chung – 
After preventing evictions for 95 percent of its clients in its first year, The Salvation Army's Eviction Diversion program in La Crosse, Wis., has been extended through funding from The La Crosse Community Foundation.
The Salvation Army is awaiting approval for a 50,000 grant from The Otto Bremer Foundation, which issued the same amount to fund the program in its first year. In the meantime, the program is running on a $10,000 grant from The La Crosse Community Foundation and the Army is seeking additional funding.
The Eviction Diversion program served a total of 47 people in 2014. Of the 22 families served, 21 remained in their households.
"[We're] trying to prevent this program from turning into another financial program, so focusing more on the case management aspect and allowing the individuals to go out there and find more resources on their own, and then come back to find what financial aspect that we can assist them with," said Tennille Spears, the program's outreach case manager. "We're just drilling more on creating the self-sufficiency aspect of it."
Services offered include: personal case plans to promote self-sufficiency, financial counseling, employment resources, transportation resources, child care providers, agency referrals and client follow-up.
In order to qualify as a client for the program an individual must: have a source of income, agree to be in the program for at least 90 days, be on a lease, and present evidence to prove a short-term crisis. Qualified families may be self-referred or referred by a treatment professional.
The Salvation Army separately offers a rental assistance program as well as an emergency shelter in La Crosse, where 23.5 percent of residents live below the poverty line. Wisconsin's state average is just 12.5 percent.
"The program is designed to help people," said Linda Cabazel, a current client of the Eviction Diversion program. "It's saved me from losing my home. I'm a single mother of two and though I'm a veteran, there is not a whole lot for women veterans with children…I've dealt with many programs, including the VA, because you find yourself in a life situation that is beyond your control as something less than desirable and you get treated as though you're less desirable, and with Tennille I've never been treated that way."
The program currently serves nine people. Spears said the financial budgeting counseling service the program provides is one of the most helpful resources for clients because it teaches them financial management skills, such as how to break up rent payments into smaller increments.
"You're more likely to have families that will succeed because you have someone there that is willing to help you and guide you and still treat you just like another human being, and I think that's very crucial for any program," Cabazel said.