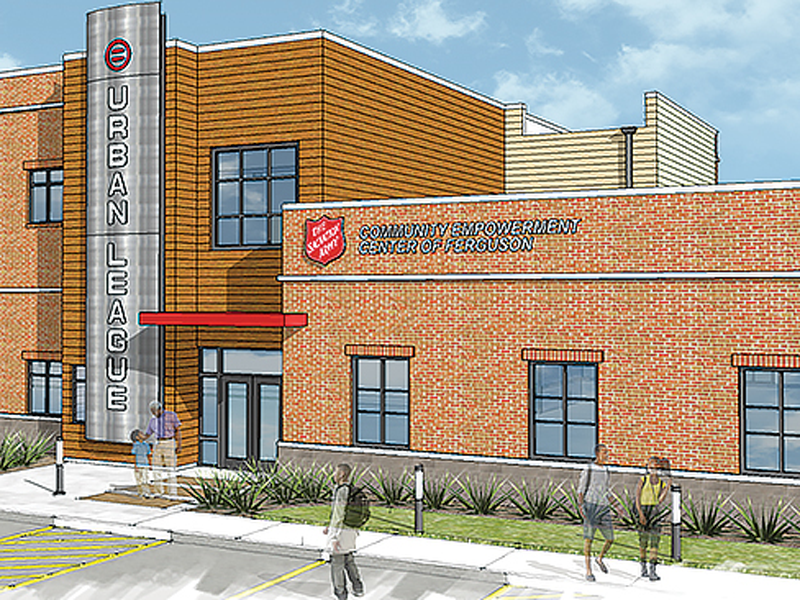 Empowerment center to open in Ferguson
Construction is underway where a QuikTrip convenience store was looted and set afire on Aug. 10, 2014, the night that Ferguson, Missouri, a small suburb just north of St. Louis, erupted in a wave of civil unrest that made headlines around the world.  
This spot on West Florissant Avenue, just blocks from where an 18-year-old unarmed teenager was shot by a police officer, marks the edge of one of Ferguson's two main business drags and an epicenter of much of the violence that roiled the city for weeks. It's here that a new community Empowerment Center will emerge, in a joint venture between The Salvation Army Midland Division and the Urban League of St. Louis, a nonprofit dedicated to addressing economic and social justice issues.
"To take that building that was really a tragedy and turn it into a triumph was our version of a phoenix rising out of the ashes," said Mike McMillian, CEO of the Urban League.
In order to devise appropriate programming for the initiative, Midland Division contracted with Urban Strategies, Inc., to conduct a thorough needs assessment with the community. What came back was a clear consensus that focusing on youth and young adults struggling to gain solid footing as they transitioned into adulthood would help address the greatest needs. As a result, the center is being envisioned as a full-service community resource that will offer job assistance, youth development, Pathway of Hope and other programming designed to disrupt the cycle of poverty. Slated to open in early 2017, the center will be built on land donated to the Urban League by QuikTrip.
In some ways, Ferguson is a quirky hybrid, where pockets of farmland abut dense suburban neighborhoods. In other ways, it's a familiar statistic. Over 60 percent African-American, with almost a quarter of the population living below the poverty line and grappling with an unemployment rate nearly three times the national average, Ferguson typifies the downward trajectories that have hit many of the country's suburbs.  
"We believe that God has this ability to do what we as human beings can't do. And most importantly that's reconciliation," said former Divisional Commander Lt. Col. Lonneal Richardson, who approached the Urban League about the partnership. "He not only redeems broken people, which the Army does in a tremendous way…but I believe God redeems broken systems. And we need not fear that."
Originally, the Urban League planned to create an 8,000 square-foot facility, where it would share space with fellow nonprofits invited to join the project. Once The Salvation Army came on board, however, plans were revised to add a new second floor and an even bigger mandate.
"One of the things that both of us are focused on is the fact that, even though we serve so many people in so many programs with so much goodwill from all of our supporters, obviously individually, we have not been able to solve the epidemic of poverty," McMillan said. "I'm so hopeful that we will be able to show a demonstrable example in this building. Collaboration is not easy, that's why a lot of people don't do it. But we have to keep trying to show that that is the model of the future."
In fact, this ground-up collaborative approach also represents a different animal for The Salvation Army, said Kimberly Beck, St. Louis Regional Social Services Director. "We've learned we have to leverage our assets," Beck said. "We don't have unlimited resources. We're filling gaps, not duplicating efforts." 
In its quest for synergy, Midland Program Secretary Major Gail Aho likens the new center to a hospital, "where everybody has their specialty, but we've got the same patient," she said. "And we just put each patient in the center of the table and talk about what's needed, what's missing, what's hopeful. And then we take them off of the table and put the next one on."
For instance, by setting up a new Pathway of Hope office on the second floor, officials see opportunities to connect the program to a population beyond its original focus on families with young kids—a development that could grow organically out of its proximity with the Urban League's signature new program down on the first floor, Save Our Sons (SOS). A month-long employment readiness initiative focused on young men in the North County area, SOS could segue participants directly into the Pathway program regardless of whether they have families or are even noncustodial parents. In the same way, hopes are Pathway of Hope, with its inherent fluidity, could cross-pollinate with any number of initiatives and services throughout the center, offering assistance on everything from anger management to buying a home.
Youth programming, meanwhile, will likely focus on upper elementary grade schoolers, including initiatives designed to help spark lifelong passions, along with a development curriculum emphasizing belonging, mastery, independence and community responsibility.
Across these efforts echoes a unified theme—how to dismantle not just systemic issues driving poverty, but also biases that feed the system.
"How do we first take care of it in our hearts and then in our world?" Aho said.
As one of the world's largest social service providers, deeply informed by its boots on the ground, The Salvation Army brings with it the wisdom to help shape these kinds of national conversations, said LeKeysha Fields, Lead Divisional Coordinator for Pathway of Hope.
"We are the first face people see. We see the need and they see us, and if we're not on that stage helping to make those decisions, who's making the decisions and are they informed?" Fields asked. "We should be able to advocate and help decision making processes happen, to tear down those structures and systems that exist that are underlying what's wrong in our society."