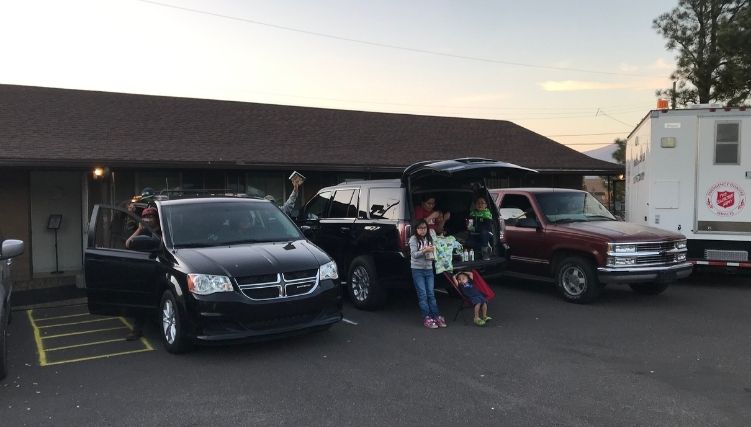 Emergency grant helps Flagstaff residents regain hope after a year of loss
While many Americans faced shortages in everything from childcare to housing during this past pandemic year, there was one thing in particularly high demand: hope. 
This was especially true for a number of Flagstaff, Arizona-based individuals and families who suffered job losses related to a decline in local tourism or personal losses from the COVID-19 disease itself. Many of them experienced both. 
So when The Salvation Army Flagstaff Corps was selected by Arizona Gov. Doug Ducey for an invite-only $150,000 Emergency Solutions Grant-Corona Virus (ESG-CV) provided by the Department of Housing and Urban Development (HUD) this past October, Captain Brittany Baker and her small team of case managers got to work on helping to restore not only stability, but hope for a brighter future during a dark time. 
"This really woke us up to how expensive the rent is here," Baker said, noting that the most recent city housing data shows that more than 22,000 households in the area spend 30 percent of their monthly income on housing alone. 
The ESG-CV grant provided up to three months of direct rental assistance payments up to $4,500 for households living below 50 percent of the federal poverty level due to an adverse situation caused by the pandemic. In addition to the rental assistance, the Flagstaff Corps has provided case management and referrals to other agencies and resources to help families increase household income and become self-sufficient. 
To date, 45 households in Northern Arizona have been assisted since October as a result of the grant, and nine of them have successfully increased income and become self-sufficient and are thriving. One of those recipients, a woman named Sierra*, has not only been able to get back on her feet, but she's found work in her field and wants to pay what she received forward in the near future. 
Previously, Sierra had worked in advertising and marketing for 15 years before earning her master's degree in human resources and organizational development and transitioning into training and development for nonprofits. 
But shortly after moving to Flagstaff, the pandemic took hold, and Sierra became ill. She ended up being out of work for more than two months, and when she was finally well enough to return to her full-time job, it was no longer available. 
"When I didn't know where to go or who to turn to, someone suggested The Salvation Army," she said. "I had worked with [the Army] elsewhere, and always knew of the Red Kettles, but little did I know, there would come a time in my life when I would need them." 
One day, Sierra received a call from Baker to check in, and she asked if she needed anything. "No," she initially replied, but then added, "Actually, I have a dog. I have taken care of him for 15 years…and I am on my last bag of dog food." 
"Come by my office," Baker replied. A patron had provided a grocery card in kind—and Sierra was able to not only purchase food for her beloved pet, but she was able to put gas in her car to be able to get to work. 
She was overwhelmed. "I've never had that kind of kindness," she said. 
But Baker said it's that personal relationship with each of her clients that makes all the difference. As an extension of their work with local residents on housing and employment assistance, the Flagstaff Corps also got creative with its after-school program, called Troops. During the pandemic, it was converted into a drive-through program with activities for families to do together from their cars. 
"It went from us picking up kids to engaging with the parents and them joining in," she said. "It's beautiful to see how they're fostering that family time together."
Still, even as some families have found a renewed sense of connection with one another, they've struggled to return to stability. Although the Flagstaff City Council declared a Housing Emergency at their meeting in December, and more affordable housing was prioritized, five of the families who were receiving assistance as part of the ESG-CV grant have already had to move out of the area to live with or closer to family. Baker made a point to connect them with their local Salvation Army Corps to receive support in their new communities. 
As the Corps awaits news of the grant's possible renewal, Baker said it's a matter of faith in what can't yet be seen. "This grant is providing hope," she said. "Maybe you can't see when that next job or step will be coming, but we're holding onto hope. We're praying. In my eyes, it's our way of saying, 'we've got you.'"
*Recipient's name has been changed to protect anonymity. 
---
Do Good:
You've probably seen the red kettles and thrift stores, and while we're rightfully well known for both…

The Salvation Army is

so much more

than red kettles and thrift stores. So who are we? What do we do? Where?

Right this way

for Salvation Army 101.

It's because of people like you that The Salvation Army can serve more than 31 million Americans in need each year. (

That's almost one person every second, every day.)

Your gift helps The Salvation Army fight for good all year in your community. It's an effort to build well-being for all of us, so together we rise. And that good starts with you.

Give to spread hope

with a donation of funds, goods or time today.