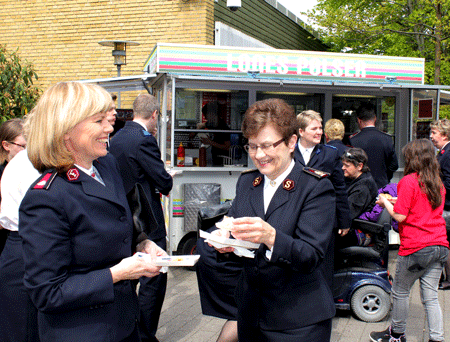 Danish Congress Celebrations Include First Appointment to Greenland
Congress celebrations in Denmark included the historic appointment by General Linda Bond of officers to 'open fire' for The Salvation Army in Greenland. Lieutenants Magnus and Petura Haraldsen – who had been in training in Norway – were commissioned as Salvation Army officers before, with their sons Daniel and Adrias, being presented with the Greenland flag.
The General told the lieutenants: 'The next flag you receive will be the Salvation Army flag'. The family will move to Greenland in time to begin work there on 1 August.
Also commissioned was Lieutenant Maria Larsen, who had been trained in London. In taking up her appointment as corps officer in Nyborg she became the youngest officer in the Denmark Territory – representing the growing influence of young people, as reflected in the congress and also in the territory's recent past. The General encouraged the congregation to recognise the great work God is doing in Denmark and described the young people as a 'revival generation'.
The General's words were given greater meaning during the last meeting of the congress when she challenged the young people present who were willing to serve God unconditionally to move to the platform – and a large crowd responded.
The atmosphere at the congress, which celebrated 125 years of Salvation Army ministry in Denmark, was characterised by hopefulness and openness to the Word of God. The International Vision about being One Army with One Mission and One Message was shared in an accessible way by the General. There was a flow between the events, concerts and meetings with emphasis on fellowship and unity.
Mannssambandet, a Norwegian male voice choir, rounded off the Saturday evening meeting with contemporary songs of praise. It led the congregation in worship and praise at other times during the congress, along with a range of Danish groups.
Participation from the public and representatives from other churches – particularly at open-air meetings and a march through central Copenhagen – ensured that the historic milestone for The Salvation Army was not a private party.
Ole Birch, a pastor in the Methodist Church and member of the National Council of Churches in Denmark, brought greetings from the wider Body of Christ; Peter Skov-Jakobsen, bishop from the state church in Copenhagen, pronounced the benediction; and former Prime Minister of Denmark Poul Nyrup Rasmussen shared warm childhood memories of when he and his family attended The Salvation Army.
With three brass bands in central Copenhagen, the anniversary celebrations attracted attention on a sunny Saturday morning. Many people were given a little bag with a leaflet headed 'soup, soap, salvation', a reminder of The Salvation Army's principles over the past 125 years – and over the next 125!
Report by Major Levi Giversen