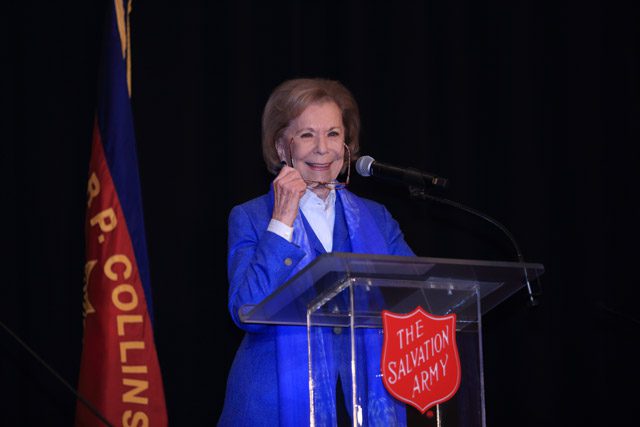 Dallas' Carr P. Collins Social Service Center celebrates its 30th anniversary with a major fundraiser
The Doing the Most Good breakfast surpassed its goal by $85,000
By Janine Zuniga –
A Dallas fundraiser has brought in over $185,000 for a local Salvation Army service center.
The Doing the Most Good Breakfast benefited and celebrated The Dallas Salvation Army's Carr P. Collins Social Service Center on its 30th anniversary.
Over three decades of service, the 24-hour, 161,000 square-foot facility has housed approximately 600 people each night. The center's services include an emergency homeless shelter for men, women and children, a court-ordered substance abuse rehabilitation program, transitional housing for homeless veterans, a homeless-prevention program, and a food pantry.
Well-known philanthropist Ruth Altshuler served as the keynote speaker. Addressing a crowd of about 300 attendees, Altshuler expressed her admiration for the center, which was named after her late father, Carr P. Collins, and its never ending quest to 'do the most good'.  
"I'm very proud of the attention [the event] is getting," Altshuler said. "[This] should be of some interest around the county. The Dallas branch is always at the top. It may inspire other cities to copy it."
The fundraiser was designed to help the center continue its operational services. Originally, its goal was to raise $100,000, with a stretch goal of $125,000. By the event's end, however, the center had surpassed its goal by $85,000.
Laura Bush was among the attendees. The event, which was held at the Belo Mansion in Dallas, Tex., kicked off at 7:30 a.m., something Altshuler made light of in an interview.
"Oh my friends; I thought they were going to shoot me," Altshuler said. "But they came, and once everyone got there, they had a good time. It was very well done."
The morning's itinerary also included speeches and a client testimonial video. President and CEO of BJW Consulting Group Bernice J. Washington gave the invocation, which Altshuler followed with a piece entitled "The Legacy of Carr P. Collins, told through the eyes of his daughter." The event ended with closing remarks by Majors' Jon and Barbara Rich, DFW Metroplex Commanders.