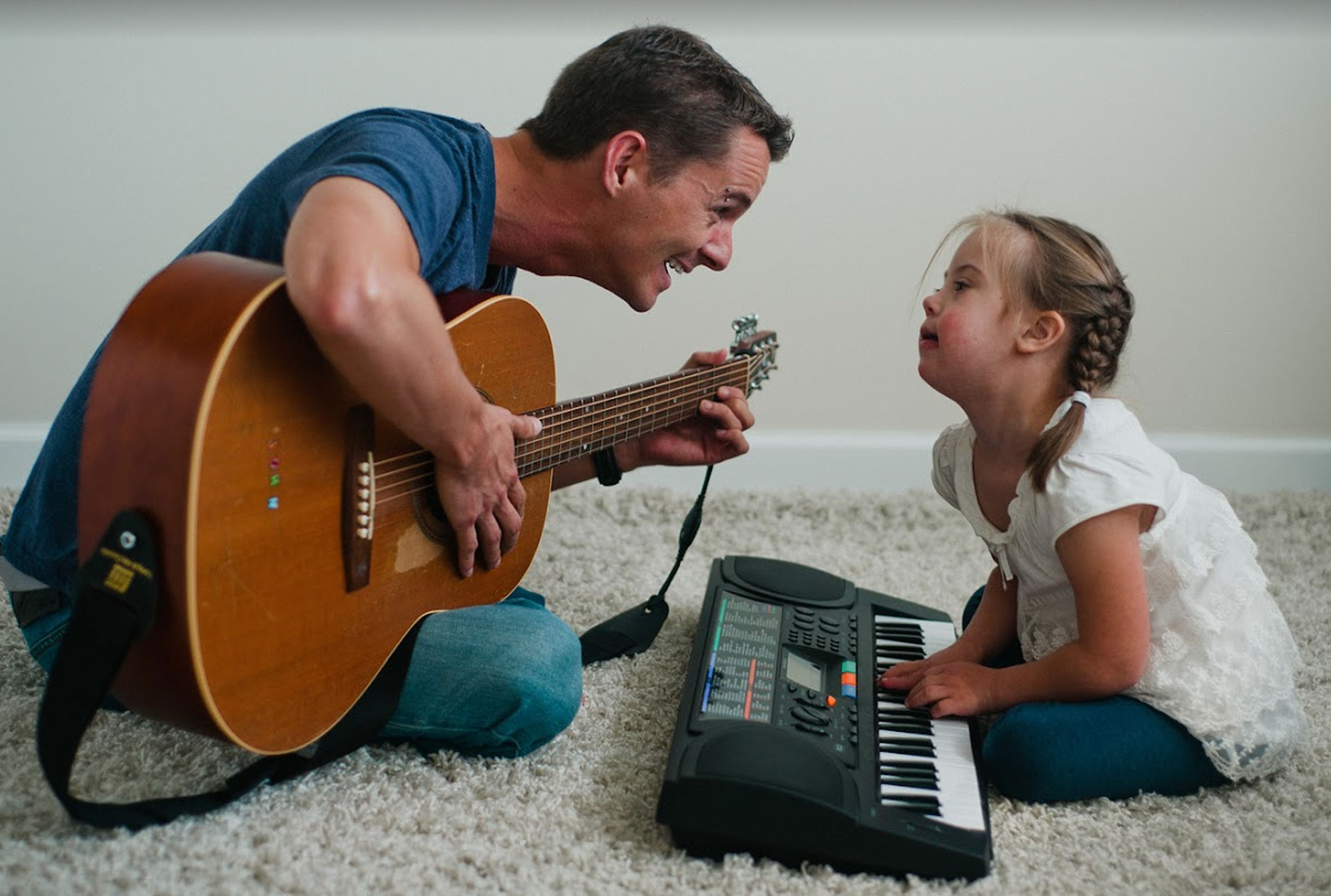 Crescendo Music and Dance is expanding its reach with music therapy
The Salvation Army partners with Mewsic Moves to make music accessible for all.
"I'm less tense, more relaxed," said a participant in a drum circle, facilitated by John Mews of Mewsic Moves at The Salvation Army Crescendo Music and Dance in Torrance, California.
Mews used the drum circle during a recent music therapy night—an initial offering representing the partnership between Crescendo and Mewsic Moves, both of which aim to transform lives through music for children and adults, and to make music accessible for all, including those with disabilities.
"This is what it feels like to be alive," Mews said when many in the group mentioned feeling a tingling sensation. "This energy, this vibration that we're sharing is what it feels like to be alive and to be connected."
Crescendo has been offering affordable music and dance education at The Salvation Army Torrance Corps campus since 2016. Garry Lawrence, Crescendo Director, said he's been looking for ways to expand Crescendo's offerings to anyone in the community who could benefit from music, including those who may believe they can't make music.
"One of the things that I've been passionate about as part of our music program is music therapy for autism-related needs or for anyone that needs that particular help," Lawrence said. He realized the potential for collaboration when he met Mews, whose program serves not only people with autism, but also those with dementia and other neurological conditions.
Research supports music's power to heal. It activates the brain, facilitating its ability to create new connections (neuropathways) and improve overall brain function. Additionally, music can positively impact wellbeing and reduce depression or anxiety, including for individuals recovering from traumatic brain injury. It can even help people with eating disorders.
Previously, Crescendo offered music therapy for people with autism, but during the pandemic, when the program was on hold, the facilitator moved away. Crescendo had also offered a monthly music day for seniors, including those with Alzheimers—another offering that halted during the pandemic. Lawrence has been looking to restart these programs.
Mewsic Moves and Crescendo found each other thanks to the Del Amo Torrance Rotary Club, which had a grant they wanted to use for music therapy. The Rotary Club contacted Mews, brought him on board and told him they had the perfect location—The Salvation Army. All parties agreed it was a perfect partnership.
Currently, Mewsic Moves is seeing private clients on Mondays and Thursdays at Crescendo, where music therapist Francesca Crowley has started working with 13-year-old Gavin, who has ASD (autism spectrum disorder) and ADHD. Although he has had difficulties making friends his own age and has experienced bullying at school, his mother said his social awareness and ability to handle change are improving.
"Francesca is so very special, providing our son a safe space where he feels comfortable to share his true, raw feelings and to actually sing," said Christina Donaldson, Gavin's mother. "We couldn't be happier in his therapeutic musical journey."
Mews said he hopes to bring the Glee Choir for adults with neurodiverse needs to Crescendo this fall. He first launched such a choir when he lived and worked in Vancouver, Canada.
"I consider myself to be an innovator," said Mews, speaking about that first choir. "I love to create programs based on need."
He had noticed the Vancouver community did not offer much for adults with disabilities when they leave school.
"But there are a lot of adults with special needs who are home and bored and depressed, and isolating," he said. "So we created this choir in Canada, and it just exploded."
Mews, who is also a family therapist, added the choir provides a benefit for the whole family. When the Glee Choir holds a concert for family and friends, the experience can be healing for family members.
"This, to me, is another extension of therapy," he said. "It's family therapy…when they see them on stage, fully being themselves and singing and loving life—that's healing."
Lawrence said Crescendo has to be selective about the groups they allow to use their facility.
"Everyone would use it if they could," he said. "We want to be associated with something really special in the community…Music reaches where words don't. That's it in a nutshell. We want everyone who comes through our doors to feel welcome, to feel an atmosphere that radiates the love of God."
---
Do Good:
Get the Do Good Digest. (Because being a nice human always has a place in your day.) Join 23k+ people who care and get weekly inspiration sent right to your inbox.
What are the simple, soul-filling ways you can upgrade your time, even if it's just a few minutes? Get the Joy-Filled Toolkit and make a plan for joy with a printable 12-week joy planner and mini-workshop podcast to help you make the most of each moment.
Do you have a hard time telling people what you do, or what you're passionate about and why? Ever stared at a blinking cursor, unsure of what to say or where to start? Or do you avoid writing altogether because you're "not creative enough"? Take our free email course and find your story today.