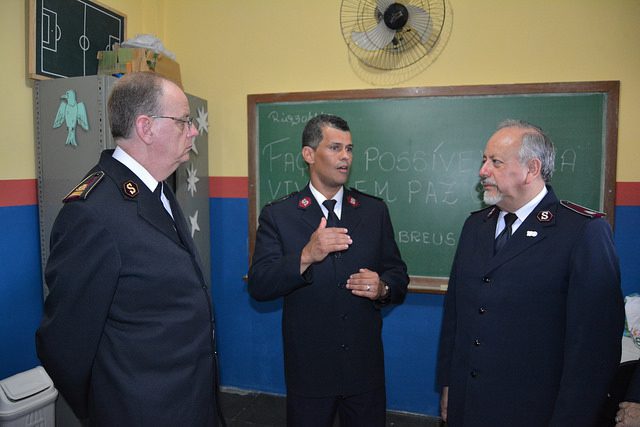 Coxes join Brazilian 'Salvationist Day'
International leaders participate in annual celebration while visiting people and programs
By Ebenéser Nogueira, Major – 
International leaders General André Cox and Commissioner Silvia Cox, world president of women's ministries, recently spent five days traveling to three of Brazil's 10 largest cities, sharing worship and witnessing the success of vital programs that assist some of the country's most vulnerable people.
They began in São Paulo, home to Brazil Territorial Headquarters (THQ), with a visit to the Três Corações (Three Hearts) Project, an outreach and assistance program for men who are living on the street, and ended with a tour of a program that offers help to women and children who are victims of domestic violence. In between these visits, the international leaders had lunch with current and former territorial leaders, THQ officers, and officers and cadets from the training college. The meal was followed immediately by a visit to headquarters departments and to the training college, where the General gave a lecture to cadets.
In the evening a large number of Salvationists and friends gathered at the São Paulo Methodist Cathedral where the Coxes received a joyful greeting and were warmly welcomed by Bishop Ildo Mello, representative of the Free Methodist Church and the churches of the Wesleyan tradition.
Following travel to Rio de Janeiro, the Coxes visited an integration project in the Nova Divinéia community of the city. The program provides assistance to vulnerable children who are at risk from the many problems found in the favela, including drug trafficking. Before the international leaders toured the program, the children sang for them.
Salvationists in Brazil celebrate May 1 as "Salvationist Day," with a congress held in Rio de Janeiro where the Army began in the country in 1922. The theme for this year's congress was One Army. Two sessions of officers councils were followed, in the afternoon, by a large prayer meeting. Silvia Cox witnessed to the power of prayer in her own life and the General, in his message, urged people to a life of prayer.
The evening meeting was attended by Reverend Guilhermino Cunha, pastor emeritus of the Rio de Janeiro Presbyterian Cathedral (the first Presbyterian church in Brazil), who brought a greeting to the General on behalf of Presbyterian and other churches, and the Bible Societies. The City Council of Rio de Janeiro was represented by Councilman Elisha Kessler, who presented an Honorable Motion to the General.
The following day the General and Commissioner Cox, along with Salvationists and friends from the states of Paraná, Santa Catarina and Rio Grande do Sul, worshipped the Lord in a holiness meeting in Porto Alegre, followed by a festival in the evening that included performances of traditional music and a powerful exposition of God's Word by the General.
On Sunday morning, officers from the south of Brazil enjoyed two sessions of officers councils, followed by lunch with the General and Commissioner Cox.