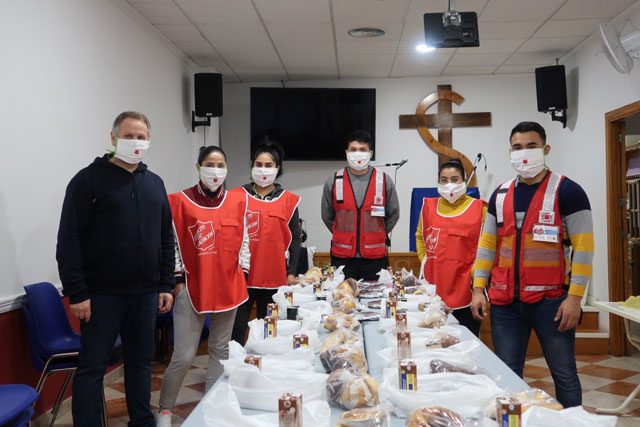 COVID-19 response in The Salvation Army Spain and Portugal Command 
Officer Commanding Lt. Colonel Phil Davisson gives a first-hand report.
By Philip Davisson, Lt. Colonel – 
The Spain and Portugal Command—Ejército de Salvación † Exército de Salvação—is unusual even in the best of circumstances. As Officer Commanding, I live and work from Lisbon, Portugal. The General Secretary lives and works from Madrid, Spain. The two national offices stay connected through daily phone calls and video conference meetings. Regular committee meetings take place through video conference means as well (often in two or three languages). Usually, my wife and I are on the road each month, flying throughout the command to visit corps spread across all of Spain (including Mallorca and the Canary Islands), or driving north and south to visit corps in Portugal. That is the normal way we stay connected. But these days are anything but normal. We began working from home in mid-March, taking advantage of established practices to continue distance management, though all the flights and events have been cancelled.
As much as possible, however, the work to serve those in greatest need has continued, with some necessary precautions and alterations. In Spain, many of the corps distribute either a monthly box of food for those households in need, or host a daily breakfast for those living on the streets, or both! Much of the monthly food distribution has been altered to curbside delivery. A few of the daily meals have not been able to continue for logistic or health reasons; but other daily meals have continued, albeit with necessary precautions in place. One factor many may not realize has us searching for ways to respond better: the great number of immigrants and refugees to Spain from Venezuela and other Central American countries over the last two years. Not all of them have regularized their resident status and so are outside the government assistance plans. Many of the corps in Spain have a great number of soldiers who also have lost their jobs in the service industry, and with or without proper papers, all are now seeking help to find food and maintain an apartment.
More than one of our officers in Spain has been infected with the new virus, including one hospitalized for two weeks (now safe at home). Several soldiers have been infected, some hospitalized, and one elderly soldier has died. Having, in place, the means to maintain contact while in isolation or quarantine has been very helpful. Corps officers are buying groceries and delivery pharmacy prescriptions for their elderly soldiers, and making food deliveries to others in their communities to those who cannot leave home.
Meanwhile in Portugal as in Spain (and likely around the world), corps officers are planning and conducting virtual meetings on Sunday. Portugal is much more compact than Spain, in terms of geography and the distance between the corps. The social work in Portugal is also distinct. We have here a seniors' residence, a seniors' day center and home food delivery with personal home assistance for the elderly, as well a children's home, community needs center, and an overnight shelter. The homeless shelter has been converted into a 24-hour shelter in conjunction with the Lisbon city plan for the homeless. Visits to the seniors' center and the children's home have been severely restricted. Employees are working different shifts, and directors are constantly working to maintain sufficient staff, as some employees must stay home with children, and others leave with illness. All are taking great precautions to maintain health and safety standards. Each day brings new challenges for the institutions, adapting quickly to changing circumstances and responding to the elevating rate of infections in the various communities. Institutions and corps alike are working closely with local government bodies to respond to the heightened needs.
From headquarters, we have been sending extra funds to several places, to increase their ability to assist others; to maintain rents and pay employees (all the thrift stores have closed, but we have committed to supporting our employees). We are making extra phone calls and working through video conference means to encourage our officers and staff. No one knows what will come next, but throughout the command there is a sense of hope and the spirit of Salvationist service, not simply to endure but to thrive. Officers in quarantine find their soldiers stepping up to take their place on the front lines of service. Personnel across the command are praying, finding new ways to demonstrate their commitment to mission, showing God´s love for all. Absent the practice of physical touch, the spirit continues to provide means to touch lives, and our people are responding.
Lt Col Sheila [Davission] has created prayer guides, Lenten devotionals, and Easter activities to deliver across the command. Her salutation in each email carries our intention: Stay calm, Be wise, and Lean on God.
View this video of Porto, Portugal, home help care and food delivery.
Lt. Colonel Phil Davisson's two volumes about the Book of Revelation, published by Frontier Press, a department of New Frontier Publications, are available as free downloads at frontierpress.org.
HOW TO HELP:
If you'd like to make a monetary donation, please

click here to make a gift.

Text 'GIVE' to 52000 to make a $10 donation to The Salvation Army. This will automatically add a one-time donation to your next mobile phone bill.

For information about volunteering, please visit

volunteer.usawest.org

.

To learn more about how to support The Salvation Army's relief efforts,

please click here

.