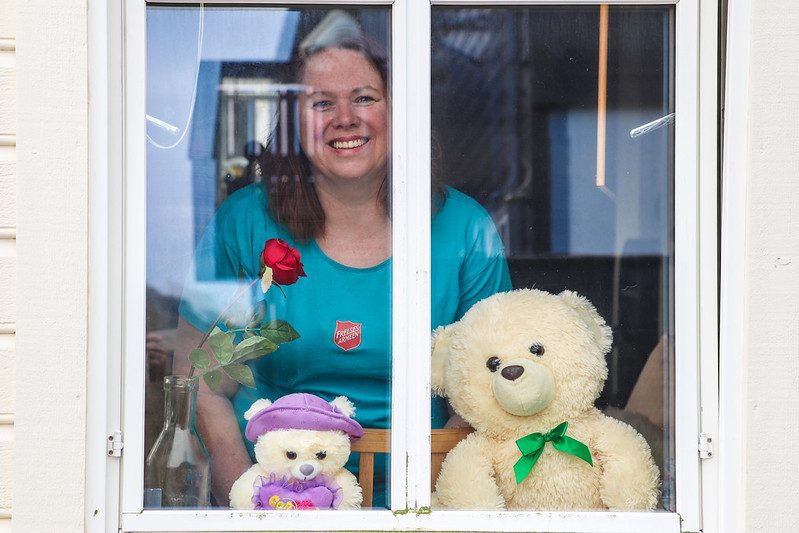 COVID-19: Going on a bear hunt in Norway
While The Salvation Army in Norway is helping people through the COVID-19 coronavirus crisis in a variety of ways, the Army's corps leader in Egersund has come up with a novel approach to unite the community despite the imposition of social distancing rules. The surprising technique? Encouraging households to place a teddy bear in their front window.
Captain Ester Danielsdottir van Gooswilligen explains that "families have a lot less that they can do" during these days in which schools, play groups, cafes, restaurants and non-essential shops are closed.
Parents who are suddenly having to balance working from home with full time childcare are often struggling to find ideas that will occupy the little ones. "But a teddy hunt in the neighborhood is easy," Danielsdottir van Gooswilligen said.
Families are able to use their exercise time to go on a walk close to home, looking out for the bears as they go. "It helps with being active," she said, "and can be a great motivation to go out and do something together … a safe distance from other people."
The idea quickly spread when local newspaper Dalane Tidende shared Danielsdottir van Gooswilligen's initiative, and similar teddy bear hunts have subsequently sprung up in neighboring municipalities. Reports have been received of teddy bear hunts developing internationally, too – as far apart as New Zealand and the United Kingdom.
There's also a competitive nature to the activity – how many bears is one able to find in a single walk? "The record – as far as I can tell – is 73 teddy bears in one and a half hours," Danielsdottir van Gooswilligen said.
She encourages friends in The Salvation Army and elsewhere to consider starting similar fun initiatives through their networks, where appropriate.
From a report by the Norway, Iceland and The Færoes Territory
HOW TO HELP:
If you'd like to make a monetary donation, please click here to make a gift.
Text 'GIVE' to 52000 to make a $10 donation to The Salvation Army. This will automatically add a one-time donation to your next mobile phone bill.
For information about volunteering, please visit volunteer.usawest.org.
To learn more about how to support The Salvation Army's relief efforts, please click here.