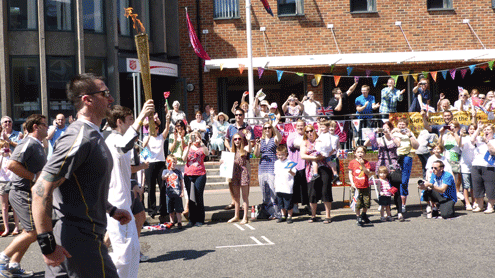 Corps Joins Community to Welcome Torch Relay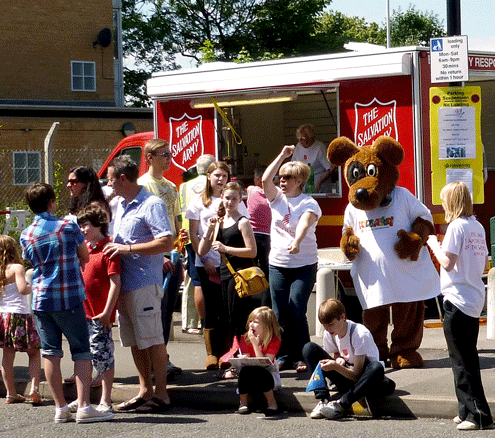 When the Olympic Torch Relay passed The Salvation Army hall in Romford, east London, on Sunday 22 July the corps (church) celebrated with the community. Romford Corps is the latest in a large number of Salvation Army centres and shops to have been passed by the torch relay during its 70-day journey around the UK and Ireland. On Thursday 26 July – the day before the games begin – the torch will be carried past International Headquarters in central London at about 10 am local time.
'Jesus is the Light of the World' was proclaimed on banners and T-shirts as Salvationists from Romford distributed special editions of The War Cry and Kids Alive! An emergency response vehicle served free refreshments to the public as Patch, the Kids Alive! mascot, entertained children waiting to see the torch. For a brief moment the Army flag formed the backdrop to the Olympic flame as the corps band played the march 'Torchbearers'.
As has been reported previously, some UK Salvationists have had the honour of being chosen to carry the torch. To see video footage of Major Valerie Mylchreest carrying the torch through Corfe Castle in Dorset, click here.
Updates on The Salvation Army's Olympic- and Paralympic-related work can be found on the Sport for Good Facebook and Twitter pages: www.facebook.com/SASportforGood and www.twitter.com/SportforGood
 Report by the Communications Section
International Headquarters