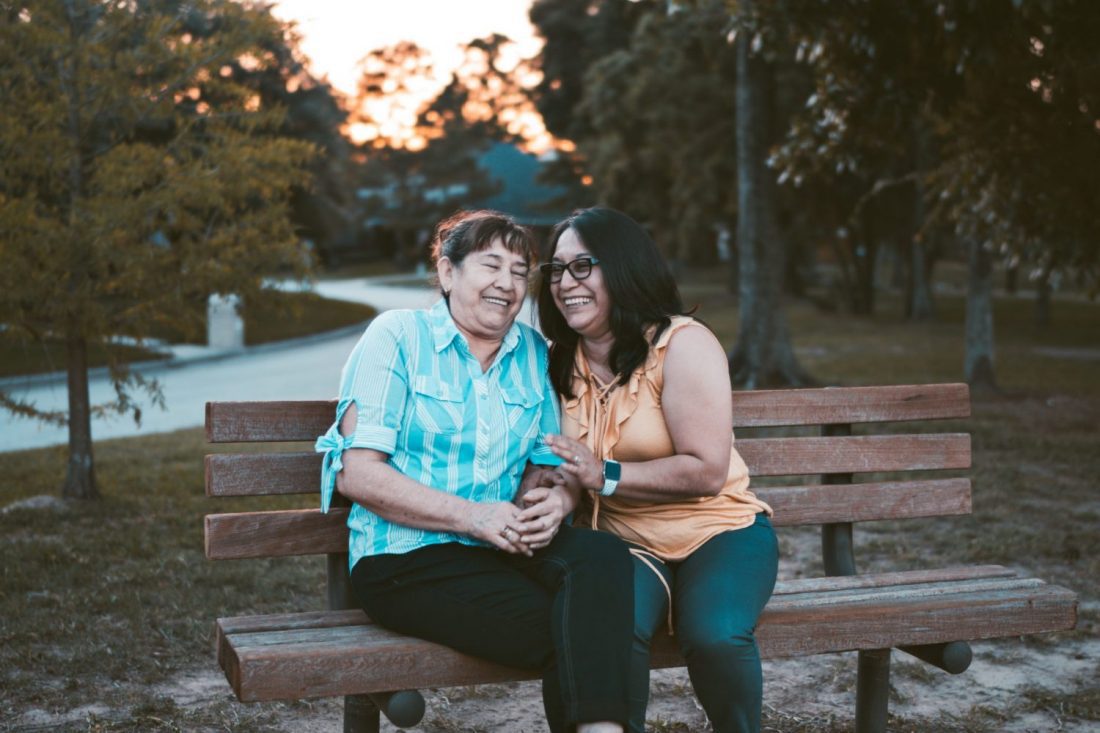 Community: Celebrating seasons of joy
A Scripture study from Caring, part three of four.
Behind the scenes
Read what Scripture says in Luke 1.
Beyond the surface
Have you ever been so excited about something that you just had to share it with someone else? Perhaps you received a promotion at work and you just had to call home to share the good news? Maybe you got engaged and you couldn't wait to broadcast the news on social media? Have you ever welcomed a child and you wanted everyone to know about your perfect baby? It could be that you received a call from your doctor explaining that scare you had with your health isn't anything to worry about. 
Our lives are riddled with moments of joy that we often want to share with those we love. Think of a time in your life when you couldn't wait to share your joy with someone else. What was it like? What was the life-event? Who did you share the news with?  
In Luke 1:39-45, we see two women celebrating a joyous occasion. After learning she was pregnant, Mary went to be with Elizabeth in her home. Elizabeth, immediately recognizing the significance of Mary's pregnancy, begins a joyful monologue of celebration. Mary's response was a song of praise. (Luke 1:46-55). I imagine these women giddy, hugging one another and shedding tears of happiness in this moment—the joy in their hearts abundant and pure.  
There is something about sharing our joy with others. We are certainly capable of celebrating alone, but it isn't the same as when we celebrate with others. John writes in 1 John 1:12, "Though I have many things to write to you, I don't want to use paper and ink. Instead, I hope to come to you and talk face to face so that our joy may be complete." When we celebrate with each other, we find a deeper joy. 
Imagine that moment you thought of earlier, the joyous occasion you shared with someone else. What would that have been like if you had kept it to yourself? When we share our joy with others, they become joy-filled, too. The baby in Elizabeth's womb leapt when Mary was near. That infectious joy is what happens when we celebrate as a community.  
A few years ago, a friend of mine was awarded a house as part of a wounded veteran program. After being wounded in combat, he had gone through a tough season that included a brutal divorce and custody battle. At the advice of a relative, he applied for a program that gave previously foreclosed homes to veterans who were wounded in war. The lengthy application process was followed by a series of interviews. He was visiting our family when he had to take another interview call. After several minutes on the phone, he walked back into the kitchen, shaking, with the phone still in his hand. He looked at me and said, "I got the house." Even now, nearly 10 years later, I can still vividly see that moment in my mind, and it fills me with joy. 
Being in community means that we ride alongside the seasons of hardship but it also means we get a front-row seat to the most incredible events in each other's lives. If you have been in a season of struggle, lean into your community, not only to support you but to celebrate their joy. It will have a profound impact on your own joy, too. 
Between the lines
Take a moment to thank God for the way he designed us to celebrate with each other. Ask him to give you more opportunities to celebrate in your community. 
Sign up for the Do Good Digest, our weekly newsletter, and stay tuned next week for part four.
---
Do Good: