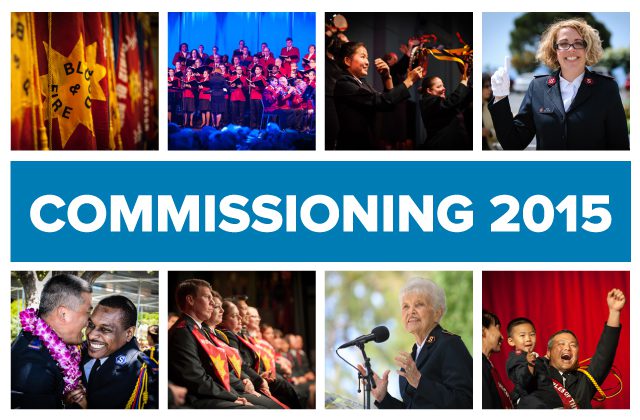 West celebrates a multicultural Army at Commissioning
Multicultural rally showcases diverse talent 
Performing groups from around The Salvation Army Western Territory came together today at the 2015 Multicultural Rally to showcase their talents and celebrate diversity within the Army during the Commissioning weekend.
"The cultural diversity in the USA Western Territory is a real-time image of heaven," said Commissioner James Knaggs, Western territorial commander. "We see around us the beauty and deep value of the many different cultures that make up the extraordinary fabric, texture, and flavors of the territory. Each one is as important as the next."
Multicultural Ministries Secretary Lt. Colonel Pardo opened the event with a welcome and time of prayer.
The rally included performances from the United Band (with members from the Los Angeles Korean Corps and Santa Ana Temple), Los Angeles Korean Songsters, Mariachi Campos, the Inglewood Corps Caribbean Dancers, Hollywood Temple Choir, Santa Ana Timbrels group, and the Singing Company from Ventura Corps, San Gabriel, and the Anchorage Korean Corps.
"I am very excited that I was selected for this band performance. It is because this is my first time performing in front of other people," said Min Jung Kim, who was part of the United Band. "I enjoyed playing with the Santa Ana Temple Corps band. It was very nice to be united with them and have fellowship with another corps."
I am honored to be a part of the rally and excited to meet other Salvationists," said Jason Lee, another performer. "Jesus gave us the boundless salvation. It is important for us to spread good news over races and cultures."
Karisma led praise and worship before Pardo gave the benediction.
"We [enjoyed] hearing the different languages, observing the various styles, and celebrating the individual, characteristic worship all together to the glory of God," Knaggs said. "Let us then join in this beautiful blend of God's chosen people to reveal his grace for everyone from every land that all would be included in The Salvation Army, just as God has planned."