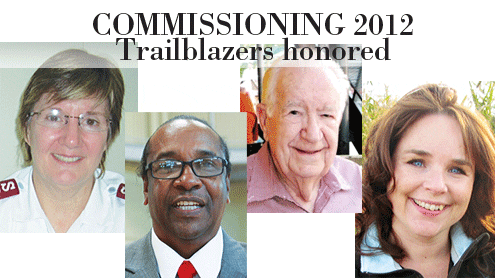 COMMISSIONING 2012 / Trailblazers honored
This annual award is presented by New Frontier Publications to recognize those who serve with The Salvation Army in innovative and exceptional ways. The 2012 Trailblazers are: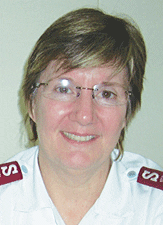 Major Linda Manhardt, a Western Territory officer, is training principal in the Philippines Territory, where she worked to build a new library that will allow for the training of twice as many cadets and is seeking accreditation for the college.
Manhardt began a weekly outreach program with the cadets, ministering to people in the surrounding communities. As a result, the new outpost is steadily adding junior and senior soldiers. The Christmas kettle program expanded, enabling the college to widen services to seniors and for emergency needs.
Previously, Manhardt served two terms as training principal in Tanzania, where she opened the training school, and in Kenya as the assistant training principal. She has served at National Headquarters, Territorial Headquarters and as director of the Los Angeles Day Care Center, as well as in corps appointments.
Major Linda Manhardt, an outstanding leader, is a Trailblazer.
Ted McClure played basketball at The Salvation Army's Phoenix South Mountain Community Center, where he became a Christian. After receiving a bachelor's in business from Whitworth University in Spokane, Wash., he returned to South Mountain and opened several businesses.
McClure has served on the South Mountain Advisory Council for over a decade, the past three years as chairman, and played a pivotal role in supporting the corps in its transition to the Ray and Joan Kroc Corps Community Center. He developed the Edward Stuart Scholarship Fund to provide membership subsidies for families within a two-mile radius of the Kroc Center, and created new partnerships with 7-Eleven Stores.
McClure's new restaurant, Spee-D-Tees, features an area displaying The Salvation Army shield and promoting the South Mountain Kroc Center.
Ted McClure, exemplifying the spirit of the Army, is a Trailblazer.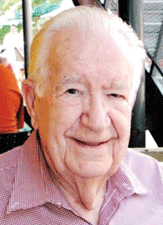 George Walker, life member of the Chico Advisory Board, has been an active board member for over 40 years. For two decades, he envisioned an adult rehabilitation program (ARP) in Chico—a vision that became reality in 2007 when a facility opened, named after him.
The George Walker ARP is a testament to his commitment to the suffering addict. In recovery himself for over 42 years, he is always available to meet and encourage beneficiaries. Today, at age 92, he still attends every graduation at the ARP.
In the community, Walker has served on the Butte County Housing Authority, the Sheriff's Meth Strike Force, the Chico Noon Rotary Club, the Chico Museum Association and the United Way Citizen Review Board.
George Walker, in his commitment to the Chico community, is a Trailblazer.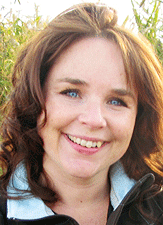 Lorrie Davis, Gresham (Ore.) Corps soldier, has served as corps youth director for 16 years. She has witnessed hundreds of children accept Christ and helped 11 underprivileged students get into and graduate from local colleges. Under her leadership the corps youth program has grown into a strong, life-changing ministry.
Recently, Davis initiated the opening of the Gresham Corps youth center and after-school program for children and teens, which serves more than 60 youth per day. In addition, she launched "The Vine," a Friday night youth worship service.
Davis helped the corps start a "First Robotics Team" to introduce young people to engineering and science by building and demonstrating robots. She has also coached the corps' Bible Bowl team, which won the Cascade divisional championship the past three years.
Lorrie Davis, an inspirational leader of youth, is a Trailblazer.