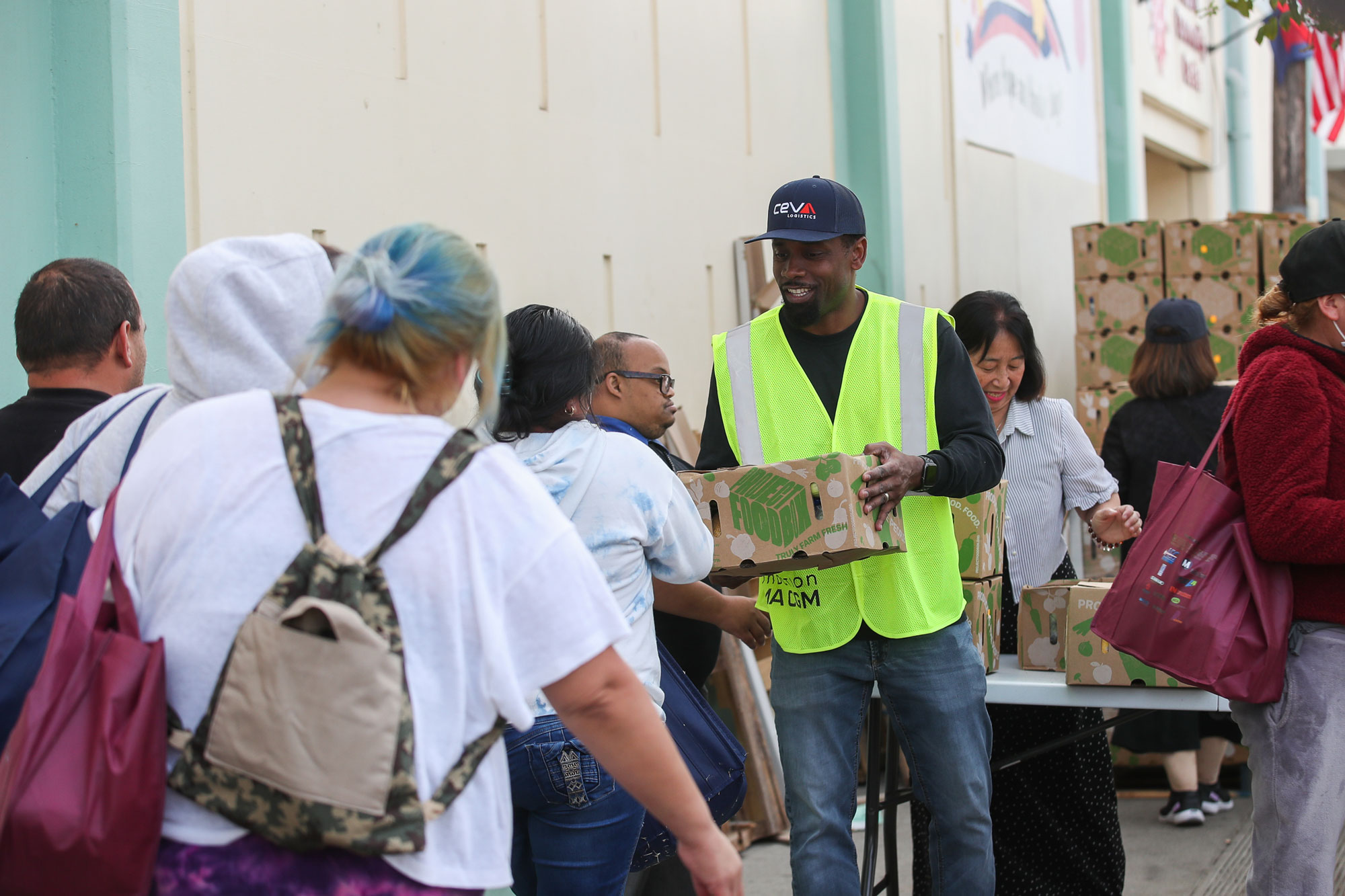 CMA CGM Foundation partners with The Salvation Army to give away 1,500 turkeys
On Nov. 10, hundreds of people lined up by foot and car outside of The Salvation Army Siemon Family Youth Community Center in South Los Angeles—their anticipation fueled by the promise of a free turkey and sides for their upcoming Thanksgiving feast.
The distribution emerged as the Maritime Freighting Company, also known as the CMA CGM Foundation, donated 1,500 16-lb turkeys and essential food staple bags to The Salvation Army.
Volunteers with the CMA CGM Foundation helped load turkeys into vehicles, while Salvation Army volunteers and staff assisted those on foot.
The event was barrier-free, with no required sign-ups or ID checks.
"It's partnerships like these that enable us to magnify our impact, ensuring that the spirit of Thanksgiving touches as many lives as possible," said Edwin Perry, Executive Director of The Salvation Army Southern California Division Siemon Youth and Community Center.
The initiative is part of the CMA CGM Foundation's "Giving Across North America" campaign, which expects to provide 133,000 meals across the United States and Canada during this holiday season.
Valerie Valera, a community member who frequents The Siemon Family Youth Community Center, said the event is a helping hand at just the right time.
"You really notice how expensive things are this time of year," said Valera. "After paying bills, we're already waiting for the next paycheck, so there's really no room in the budget for a turkey and sides."
Valera has been a regular visitor to The Siemon Family Youth Community Center for over two years and said the center has become a dependable resource for her and her grandchildren.
"It can be difficult at times because we want to make sure the kids are getting everything they need, and not feeling like they're missing out on something because of money," said Valera.
Valera's concern for her family echoes similar challenges faced by families and individuals across Los Angeles County.
In 2023, the Understanding America Study conducted by the University of Southern California exposed a stark reality: a surge in food insecurity affecting 30 percent of households, a 6 percent increase from the previous year.
According to researchers behind the survey, factors such as inflation, escalating food prices and the conclusion of pandemic-era enhancements to the Supplemental Nutrition Assistance Program (SNAP) benefits, referred to as CalFresh, are speculated to contribute to the observed increase in food insecurity.
LA resident Jayna Navarez said she and her family have also encountered challenges related to food security. She shared that she couldn't prepare a Thanksgiving meal last year but can do so this year, thanks to the meal box.
"I feel like I don't have to stress out and look for any little coupons or sales," Navarez said. "It's definitely a big help."
For Navarez and Valera, the complimentary meal restores a sense of joy and security during the holiday season.
Divisional Secretary for Metro Los Angeles Major Lisa Barnes said the challenges of hunger are evident as people lined up for the giveaway at 6 a.m., over four hours before the distribution began.
"With prices being what they are, so many people are really having to decide 'can that go in my cart?' and too often, the answer is 'no,'" said Barnes. "So, we're really happy to be able to serve in this way."
Barnes highlighted that the food boxes included fresh produce with the turkey, meant to enhance the dignity of recipients in more ways than one.
"What we're doing goes beyond what it looks like on the surface," she said. "By making sure people have food for Thanksgiving, we alleviate the stress of managing it alone, freeing up their emotional energy to focus on other aspects of their lives."
According to Barnes, the power of volunteerism plays a major role in serving a large community, as demonstrated by over 30 volunteers working together to ensure that every individual feels valued and welcomed, regardless of their circumstances.
For Salvation Army Siemon Family Youth Community Center volunteer Lisa Ramos, donating her time to help others is the best way to show people they matter.
"Everybody can struggle in one way or another," said Ramos. "I love volunteering and offering that extra help because you never know the extent of someone's personal challenges."
Ramos has assisted in the turkey distribution for two years and said she always looks forward to interacting with the community.
"A lot of people need this right now," she said. "And it's good to show them that they don't have to be alone."
---
Do Good:
See how The Salvation Army fights hunger.
How do we treat everyone with love and kindness, as if they were our neighbor? Get the Do Good Family Roadmap and take a 4-week journey for families in how to be a good neighbor. Follow the guide to see what the Bible says about the art of neighboring and take tangible steps together on your printable roadmap to be a caring, helpful, welcoming and supportive neighbor right where you are.