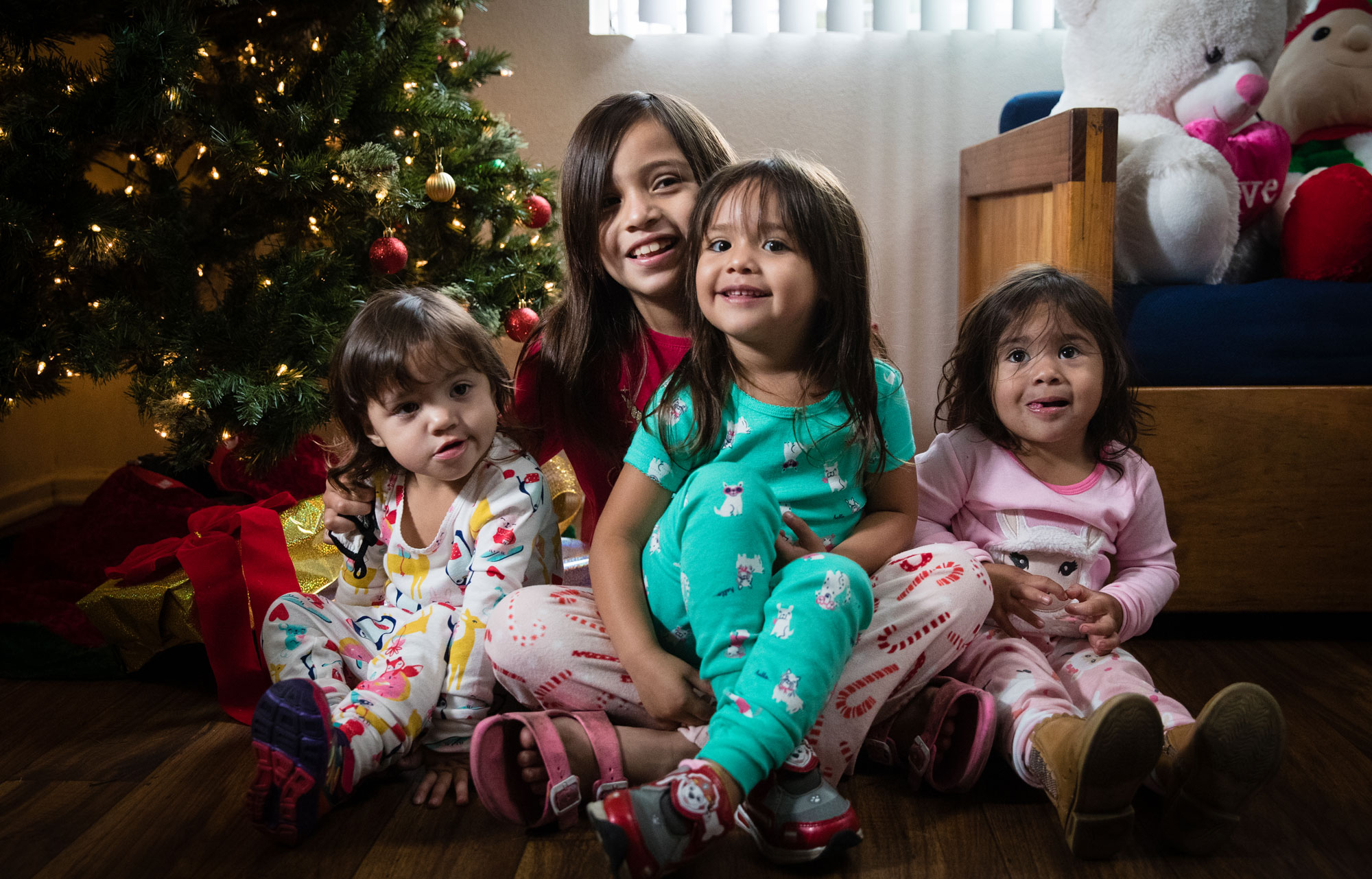 How to Make a Difference During the Holidays in the U.S.
The holidays are meant to be a time of love, laughter and joy, but that isn't true for everyone in your community. Holiday giving gives you an opportunity to improve lives, and this is the time when donations matter most. Your impact during the holidays is significant, even if you only have a little bit to share.
Roughly 31 percent of all giving and donations happen during the month of December. In this guide, we will discuss holiday giving and how you can help those around you.
It's because of people like you The Salvation Army can serve more than 24 million Americans in need each year. Your gift helps fight for good all year in your community. It's an effort to build well-being for all of us, so together we rise—and that good starts with you. Give to spread hope with a donation of funds, goods or time today.
What is Holiday Giving in America—and Why Does it Matter?
Holiday giving is a heartfelt act where Americans support their fellow Americans during the holidays. Although the holidays are often considered a time of cheer and joy, the reality is that the holidays are not a pleasant experience for everyone. For some families, the holidays can be challenging times for adults and heartbreaking times for children.
When Americans embrace holiday giving, they use their goodwill and fortune to help lift up others during the holidays. From offering donations and buying presents to providing much-needed funding during the winter, American families help other families during the times when they need it most.
The Mental and Psychological Impact of the Holidays on Low-Income Families
The holiday season is a time for generosity, kindness and understanding. Of course, it also comes with celebrations, like delicious family meals, beautiful Christmas trees and presents too. For families that live paycheck-to-paycheck or are grappling with little to no income, the holidays can be a very challenging time. In fact, 65 percent of non-shoppers during the holidays come from low-income households.
During Christmas and other holidays, low-income families often get to watch the world celebrate without them. While they are struggling to find coats to keep warm, others are excitedly talking about what they are asking Santa for this year. For adults, it can be heartbreaking to know that Christmas doesn't visit every home equally, and for children, it can be difficult to understand why their holidays are different from their peers.
Holiday giving can help keep the spirit of Christmas alive for families all around the United States.
The History of Holiday Giving in America
For as long as Americans have been sharing a space, people have worked hard to lift each other up and support each other. Giving is in the very spirit of humanity, and our support for one another has saved and improved countless lives throughout history. The giving spirit is often most prominent around the holidays when people are eager to donate to those in need and are happy to volunteer their time and services.
There have been several notable instances where humanity's love of holiday giving has reached new heights. From the very first Angel Tree in 1979 to support a local community to the annual fundraising and countless holiday programs hosted by The Salvation Army every year.
The 1891 creation of the Red Kettle had a lasting impact that has carried on for well over 100 years, focusing on providing Thanksgiving and Christmas dinners to those in need all throughout the United States and beyond. Most recently, Giving Tuesday was created in 2012 to support holiday giving too.
Today, these traditions carry on in new ways.
What's the story behind the Red Kettle? How can we bring meaning to this season with our families? How is The Salvation Army helping those in need near me? Listen in to the Do Gooders Podcast, a show from The Salvation Army's Caring Magazine for real-life inspiration, expert insight and ideas from change-makers so you can join in right where you are and be the reason somebody believes in goodness. We're covering all things Christmas to brighten your earbuds right now!
Terms to Know About Holiday Giving
These important terms can help you to understand holiday giving in more detail.
Holiday Donations
A holiday donation is a specific type of donation that is designed to align with core holidays around the world. Oftentimes, these donations are presented in the form of holiday presents, commonly linked to notable days. Although holiday donations are specific to the holidays, the fact remains that they can have a significant—if not larger—impact on a person's life than traditional donations.
Shelters
A shelter is a location where people can stay when they are experiencing homelessness. During the holiday season, shelters are more important than ever since they are often used to protect those in need from the cold. Donating to shelters and volunteering at shelters during the holiday season and the cooler months surrounding it can have a significant impact on your neighbors.
Utility Assistance
Whether you own a home or rent, you will be responsible for paying a utility bill. These bills are directly related to essential services, like electricity, water and gas—core services that make homes livable and keep people alive. Utility assistance is the act of helping another individual or family with their utility bills to ensure that these services stay active in the home.
Utility assistance is available year-round, but it is often even more important during the holidays due to the cold. Someone being able to pay their utilities can give them access to hot water, warm food and protection against the elements.
Essential Needs
Although donating Christmas presents and toys can brighten a child's day, many families have a much stronger need for what we consider essential needs. These needs are anything that is considered to be a core component of living. From clothing and toiletries to food and water, essential needs allow people to have their core needs met and allow them to stay comfortable and safe.
Angel Tree
With all of the spending that goes on around the holidays, it is easy to forget that not everyone has the ability to spend during this time of year. The Salvation Army Angel Tree is a way to give back to the community and support those in need.
On an Angel Tree, you will often find ornament tags that have the details of an individual child, as well as a list of some items they need or wish for. Any member of the community can then take this information, shop specifically for the child and help to ensure they have a wish granted. They are most commonly found during the holiday season in stores, but they can also be found in businesses, as well as online.
Red Kettle
The Salvation Army Reddle Kettle helps the organization raise funds to offer support all year to those in need. Most commonly recognized outside of a store with a traditional bell ringer, this fundraiser helps to raise money for people all around the world during the holidays.
The Salvation Army has even expanded its standard Red Kettle donations to include a Virtual Red Kettle. You can "drop your change" into the Caring Magazine Red Kettle here.
You've probably seen the red kettles and thrift stores, and while we're rightfully well known for both…The Salvation Army is so much more than red kettles and thrift stores. So who are we? What do we do? Where? Right this way for Salvation Army 101.
How The Salvation Army Makes the Holidays Brighter for People in America
The Salvation Army works hard all year long, but we give even more during the holidays.
Exploring the Love Beyond Christmas Ideology
The Salvation Army is proud to share its concept of Love Beyond Christmas, which is a collective ideology that focuses on helping to support holiday giving to lift up those who need Christmas cheer the most.
Through a variety of helpful services, The Salvation Army is able to help families experience Christmas when it would not otherwise be feasible. We support families in several ways, from financial support to tangible gifts and holiday meals.
Fundraising Events
Every year, The Salvation Army oversees and manages fundraising events that allow us to bring the Christmas spirit into American households. By partnering with celebrities, organizations and the public, we are able to raise money that can be used to bring the magic of Christmas into homes in cities all around the United States.
Be sure to watch global superstar Dolly Parton perform the halftime show live this year at the Dallas Cowboys Thanksgiving Day game—a nationally televised performance to kick-off The Salvation Army's 133rd Red Kettle Campaign.
"Wow! What an honor to get to kick off The Salvation Army's Red Kettle Campaign with the halftime show during the Dallas Cowboys game this Thanksgiving," said Parton. "Those Red Kettles have long been a symbol of hope for our friends and neighbors who are facing hard times. My goal is to encourage everyone who can to donate and support their neighbors in need. Every small act of generosity helps, and together, we can all love our neighbors this holiday season and beyond."
Collecting Donations
Donations play a key role in holiday giving, allowing families to receive presents for Christmas when presents would not fit into their personal budgets. For children, these donations can be a wonderful way to keep the spirit of Christmas and the magic of Santa alive, even during times of hardship for the family.
Through The Salvation Army, you can help bring a family's Christmas to life. This means ensuring families and especially young children have exactly what they need—and a few wishes, too—during the season. These donations can help provide security, keep families comfortable and bring a smile to a child's face.
Angel Tree Partnership
In addition to accepting standard donations, The Salvation Army also partners with companies, like Walmart, to create Angel Trees. With Angel Trees, children can offer their very own Christmas wishes, which are then placed as ornaments on a tree in the store.
This is a wonderful way to give back and help brighten someone's Christmas morning.
Keeping Families Warm During Winter
Winter snow storms can be beautiful, but for some families, they are actually a fairly significant risk. During colder months, families that may be struggling with their utilities or their ability to pay their bills could be at risk of grappling with below-freezing temperatures in their own homes.
When someone cannot afford to pay their utility bills, some companies will actually turn off access to these services. In 2020 alone, access to utilities was cut off 5.7 million times in the United States. During cold months, families can find themselves without gas or electricity—essential utilities that allow them to stay warm, prepare food or even comfortably and safely bathe.
The Salvation Army sees this need and works to support families by offering aid with these bills in the form of utility assistance. This can allow households to keep these services on, ensuring that they have adequate comfort and protection during cold months. These donations can make a life-saving difference, particularly for families with young children and elderly relatives.
In addition to offering support for utilities, The Salvation Army also plays a key role in helping to combat homelessness in cities all around the United States. For some families, this means having a safe and warm shelter during Christmas. By offering resources to offer families protection, The Salvation Army ensures that fewer families in need are left without a home during the holiday season and every other season too.
Helping Families Receive Essentials
Everyday essentials cost money, and with price increases, many daily items are becoming less and less accessible. Families can often find themselves struggling to buy food, clothing, and school supplies—and the challenges are often more significant in instances when children are still growing. What fits one season may not fit that child during the next season, and children need higher levels of nutrition to support their growing bodies and minds.
The Salvation Army helps families receive essential items every year, whether it is a hot meal for Christmas dinner or a new pack of socks and a sweater to keep someone warm. These donations and contributions play a key role in ensuring that children and their families have access to what they need during the winter season and beyond.
How to Make a Difference During the Holidays in America
Your individual support can lift up your community. Let's explore ways to make a difference.
Support Local Families
You don't have to partner with an organization to make a difference during the holidays, although it can certainly help. Taking time to support local families in your area can have a huge impact on your community, giving you the opportunity to lift up those around you. Whether it is inviting a family over for a holiday dinner or helping local children to receive presents during the holidays, your support can change lives.
Volunteer Your Services
Helping hands make the world a better place, and you can lend yours during the holidays. Look for local opportunities to volunteer during the holidays to make sure that programs in need have support to lift up your community. From preparing and serving food to organization donations, every hand helps.
Make Donations
Donating money or items is a wonderful way to ensure that someone will have a better holiday. Keep an eye out for donation opportunities to see how your holiday spending can be used to make someone's life better.
Spread the Cheer
Holiday cheer is a spirit, and that spirit is contagious. As you make your way through life during these times, be sure to smile, be kind and lend a hand when you can. Embodying the spirit of the holidays can make someone's day and make hard times a little less difficult.
Resources to Do Good and Make a Difference at the Holidays in America
There are countless ways to make a difference in your community during the holidays. These helpful resources can allow you to leave a lasting impact one intentional action or donation at a time:
---
DO GOOD:
Join us this season to center your heart—and your children's hearts—on the meaning of the season, the gift of love, given and received at Christmas. Simply sign up with your email to receive the free downloadable PDF right in your inbox today.