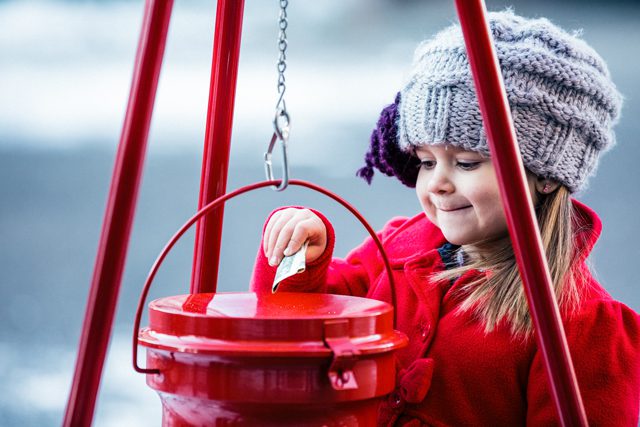 Christmas is coming in The Salvation Army
In 2016, the organization celebrates 126 years of the Red Kettle.
The Salvation Army will kick off its annual Red Kettle Campaign on Thanksgiving Day, Nov. 24, with a nationally televised live halftime performance during the Dallas Cowboys' matchup against the Washington Redskins.
This marks the 20th anniversary of partnership between the Dallas Cowboys and The Salvation Army. Since the partnership began, The Salvation Army has raised more than $2 billion in the Red Kettles to help serve those in need in 5,000 communities nationwide.
According to the most recent report from the U.S. Census Bureau, more than 43 million Americans live in poverty, including one out of five children under age 18. More than 7.5 million households with children are food insecure.
The Salvation Army helps address these needs by serving approximately 25 million people each year—roughly one person every 1.2 seconds. Last year, The Salvation Army served nearly more than 56 million meals, and provided job referrals to nearly 52,000 Americans.
The Salvation Army relies on money raised in the Red Kettles to serve people in more than 5,000 communities nationwide, and to serve more than 3 million people in need during the Christmas season—including nearly 1 million children. All money donated to the Red Kettles goes to support programs and services in the area in which it was raised.
This year's Red Kettle Kickoff performer will encourage fans to donate to the Red Kettle Campaign and share their own #RedKettleReason, which also allows Americans to adopt a cause they are passionate about, from hunger, shelter, Christmas assistance or greatest need. By mobilizing their family and friends to help reach a personal fundraising goal, individuals can help contribute to the kettles digitally.
Nick Cannon will once again represent The Salvation Army as the 2016 Official #RedKettleReason Ambassador, engaging in appearances and interviews, PSAs, expanded social media outreach and the dedicated peer-to-peer fundraising page. He will appear on the TODAY show on Giving Tuesday, Nov. 29, to share his  #RedKettleReasons and encourage donations to his own crowdfunding page.
This year's Christmas partners include Walmart and Sam's Club, which will allow bell-ringers to solicit donations outside their stores nationwide between Nov. 25 and Dec. 24. Last year, Walmart and Sam's Club hosted Salvation Army red kettles at approximately 4,959 stores across the country, helping the Army raise over $44.3 million—30 percent of all kettle donations—at these stores. In addition, for the fifth year in a row, The Salvation Army will collect coats and toys outside of participating Walmart stores during the Fill the Truck Campaign. Since its inception, this campaign has raised nearly 370,000 toys and 20,500 coats.
For the eighth year in a row, Hanes will make an in-kind donation of 200,000 pairs of socks to The Salvation Army for distribution to families in need, shipping to 40 locations across the U.S.
All Krispy Kreme company-owned and select franchise shops will host counter kettles and Angel Trees.
UPS will publish a social content series that highlights its relationship with three charitable partners, including The Salvation Army. For every story that is shared using the hashtag #WishesDelivered, $1 will be donated, up to $100,000, to be split evenly among the partners. UPS will select some of the submitted #WishesDelivered stories and surprise those selected by helping them facilitate their ideas and contributions toward helping others.
Become an online bell-ringer for your own #RedKettleReason at redkettlereason.org.