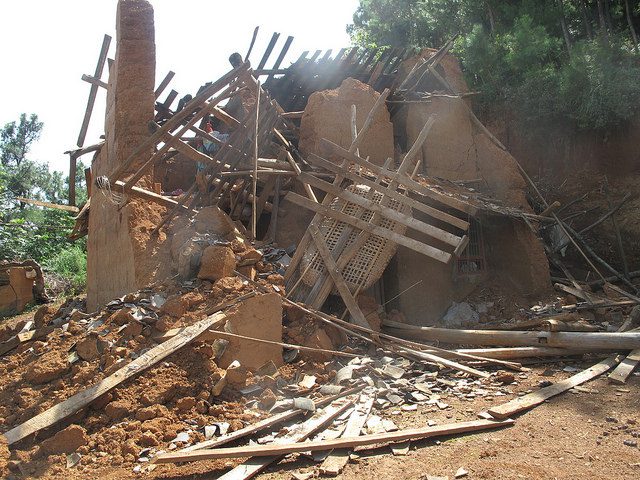 Salvation Army provides assistance after earthquake devastates Yunnan Province in China
The Salvation Army is providing support in Yunnan Province, China, after a 6.1-magnitude earthquake on Aug. 3 caused widespread devastation, particularly around Ludian County, the epicenter.
The disaster left more than 600 people dead and over 3,000 injured. Local reports suggest that at least 80,000 houses collapsed and nearly 230,000 survivors are in need of emergency resettlement. Salvation Army emergency relief personnel reached Ludian and connected with the local relief officials. Survivors were placed in more than 100 resettlement points in Ludian.
Continuous aftershocks and torrential rain are causing landslides, making rescue work increasingly difficult. The water level of a lake formed between landslides continues to rise, threatening the lives of villagers and power stations should it overflow.
The Salvation Army sent emergency supplies to the worst-affected areas, including Lungtoushan Township and Huodehong Village. Some victims walked from Lungtoushan Township to the center of Ludian County to be housed in tents. A Salvation Army relief team reached Shuimo Township and Longshu Village by Aug. 8 to distribute relief supplies.
In addition to the emergency food supplies, The Salvation Army plans to send social workers from Hong Kong to Ludian, setting up counseling teams to help affected children. Mainland social work undergraduates will be trained to serve at resettlement points. Salvation Army relief personnel have visited some of the temporary shelters and found that many children are suffering from post-traumatic stress disorder. Services being considered include trauma counseling, and play therapy.
To help children return to normal school life in September, The Salvation Army plans to provide assistance to schools in the disaster area.
On reaching Shuimo Township, Salvation Army personnel found that most of the houses were either seriously damaged or had collapsed. They distributed instant noodles, sausages, and children's books to the survivors. A second batch of relief supplies, including 300 bags of rice and 100 barrels of cooking oil, was sent to the area for distribution.
The Salvation Army is appealing to its supporters to donate to its relief response in China, and it will also apply for funding from the Chinese Government's Disaster Relief Fund in order to put in place a large-scale relief plan.
[gss ids="8491,8492,8489,8490,8488″]