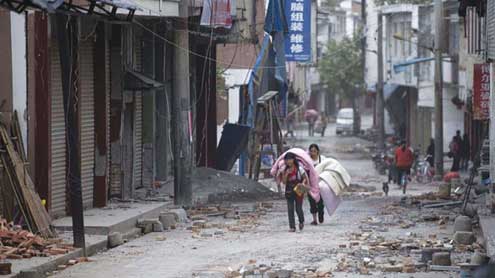 China hit by massive quake
The Salvation Army responds after a magnitude 7.0 earthquake devastates Sichuan Province.
The Salvation Army responded immediately to a magnitude 7.0 earthquake that hit China's Sichuan Province April 20, resulting in nearly 200 people dead, more than 13,000 injured and tens of thousands left homeless.
In May 2008, a magnitude 8.0 temblor rocked the same area, causing the deaths of almost 90,000 people. The two earthquakes occurred on the same fault line.
A Salvation Army team from its Sichuan Earthquake Reconstruction and Recovery Office—in operation since the 2008 quake—reported to the city of Ya-an, the epicentre, to provide food, water and spiritual care to those impacted by the disaster.
Ya-an was initially cut off due to roads torn up or blocked by mudslides, and many rural communities are still impossible to reach.
Salvation Army staff on the ground in China contacted officials from the Lushan Township Earthquake Bureau and discovered that four townships—Longmen, Taiping, Shuangshi and Baosheng—were the worst hit areas. Because most of the buildings in the area are traditional small huts with green tile roofs, very few remained standing and those that did were demolished by aftershocks.
Some survivors constructed temporary tents for shelter, although many are living without any shelter at all. Recent rainfall hindered rescue work and worsened living conditions. An urgent need exists across the region for tents, folding beds and food.
Salvation Army relief personnel remain on the ground, providing aid to all affected. Having carried out initial assessments, teams are preparing to distribute more food and folding beds. The Salvation Army will continue its assistance as long as required.
To donate to Salvation Army relief efforts, go to salvationarmy.org