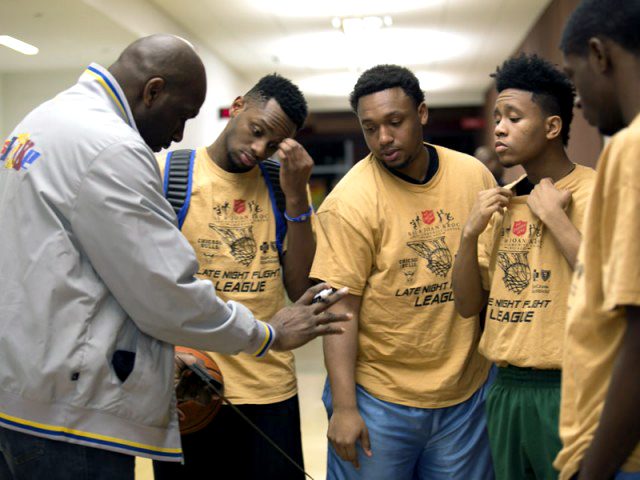 Late night basketball gives young men a shot
The Salvation Army gives Chicagoans an alternative to gangs.
It's 11:30 p.m. on a cold, winter Saturday night. The Salvation Army Ray & Joan Kroc Corps Community Center in Chicago seems quiet, but then a swish, a whistle and a cheer erupts in the gym, bringing life to the facility.
This is the Kroc Center's Late Nite Flight basketball league, and one of the players just made a lay-up while being fouled. The fans either cheered or groaned. It's a playoff game and the stakes are high.
Late night basketball leagues emerged in the 1980s to provide alternatives for young men at risk of becoming involved in, or a victim of, violence. President Bill Clinton advocated for late night basketball as part of his anti-crime legislation and the Chicago Housing Authority offered a similar program in the 1990s.
The Army's program provides a host of wraparound services including weekly classes that focus on anger management and coping strategies, identifying and maintaining healthy relationships, employment searching skills, resume writing, and goal setting. Each of the roughly 75 players in the league can also access the Army's social service programs, including the food pantry, emergency rent or utility assistance and counseling.
"Of course we want to provide these guys a safe place to play and hang out," said Major David Harvey, Kroc Center administrator. "But we also want to come alongside and provide them with the tools and opportunities to better their situations, so they're less likely to turn to violence. We want to lift up these young men so they succeed in reaching their goals."
Out of school and lacking job prospects, Lavonte Smith, 21, of Calumet Park spends most of his time at the Kroc Center playing basketball and keeping busy. He says the classes have helped him take steps to improve his future.
"It is hard when you have a dream but don't know what it takes to achieve it," Smith said. "The goal-setting class really showed me how to create a plan to succeed."
With direction and support from Kroc Center staff, Smith is now applying to local colleges to pursue a career in sports management.
Lead sponsor Blue Cross and Blue Shield of Illinois provided $40,000 to support the first basketball session. "Our focus is on keeping people healthy and Late Nite Flight promotes fitness while offering even more," said Donna Gerber, vice president of public affairs and community investments. "It provides a safe environment and trains young men to be community leaders."
At the end of the 15-week season, the Kroc Center and Blue Cross and Blue Shield of Illinois will host a banquet and awards ceremony with special guests from the Chicago Bulls.
From the Chicago Metropolitan Division