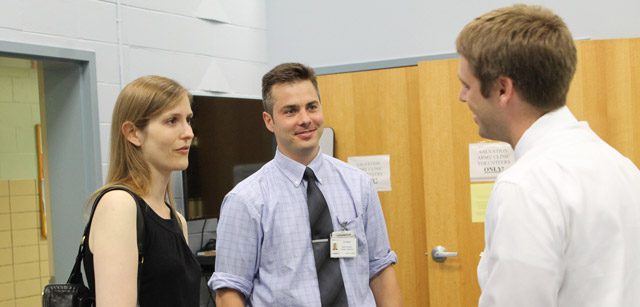 Care without coverage
Salvation Army health clinic thrives amid surge of newly insured individuals under Affordable Care Act.
By Lizeth Beltran –
As the University of Kentucky Salvation Army Clinic (UKSAC) in Lexington, Ky., celebrates its 30th anniversary this year, Todd R. Cheever will be the first to tell you: it's come a long way in three decades.
"We used to see patients in a store room located near the kitchen," said Cheever, associate dean of student affairs for the college of medicine at the University of Kentucky (UK), who served as a volunteer during the clinic's inception. "I can remember patients sitting in chairs surrounded by boxes with those industrial-sized vegetable cans in them."
In fact, the free medical clinic, founded by physicians Abner Golden and David Cowen, began as one walled-off corner in the dining room of The Salvation Army. Today, it has expanded to claim a space of its own complete with three exam rooms, an on-site lab area and a pharmacy. Staffed entirely by UK volunteers and medical professionals in the community, all services come free-of-charge to patients—everything from prescription assistance to smoking cessation classes and referrals. Although the clinic has a partnership with The Salvation Army, it's completely self-funded through university grants, donations and fundraising efforts.
Notably, since implementation of the Affordable Care Act (ACA) in 2014, its range of services has expanded. This despite a 2015 Gallup study finding that under ACA, Kentucky experienced the country's second-steepest decline in the percentage of uninsured, dropping from 20.4 in 2013 to 9.8 in 2014. While some at UKSAC wondered if a surge in the newly insured would cause a decline in patients and demand for services, the clinic experienced no such drop-off in either category—a finding consistent with over 1,200 of the nation's free and charitable clinics surveyed by the National Association of Free and Charitable Clinics.
The reason: while many now qualify for health insurance coverage under the ACA, they still face additional hindrances to gaining coverage such as language barriers, lack of transportation options and physician shortages.
"We've not seen a decline," said Ann Dickson, clinic manager and second-year medical student. "That was obviously one of the concerns when the ACA went into act, but our numbers have stayed about the same. One of the biggest things that we see at the clinic is a lot of people think it's a problem getting health insurance, which is a problem, but there's still the really big problem with access to healthcare."
The clinic serves between 45 and 65 patients a month, and spends $21 per patient. And while many of the clinic's patients are insured, about half remain uninsured, according to Dickson.
One of the other services the clinic provides is setting clients up with Kynect, which helps users compare and select insurance plans and find out if they qualify for programs like Medicaid or the Kentucky Children's Health Insurance Program.
"Healthcare is unfortunately complicated for people who don't work in healthcare," said Eric Weber, co-manager at the clinic and second-year medical student. "I think a lot of it is that people don't know and because we're free, they're more comfortable coming to us. They don't even have to worry about whether they're going to pay for it or not—we're just free. Our role is a gateway into the health system."
While the clinic is open every Tuesday and Thursday to the public, the majority of its patients come from The Salvation Army's women's shelter located on the same site.
"We get a fair amount of people, that what they really need is a primary care provider to deal with a chronic condition that they have," Weber said. "We try to provide a limited ability to reasonable medications and get them in the door somewhere that is more equipped to handle chronic conditions."
Nevertheless, Dickson said the conundrum provides a learning opportunity for many of the future physicians.
"I think it provides good education in how to communicate and how to best serve our population of people, which is something you might not get or might not get a lot of in an active medical center," Dickson said. "I definitely have a biased opinion because I think community and social medicine is a very important part of practicing medicine."
The UKSAC's success is evidenced by its continued expansion. Two years ago, the UKSAC introduced a nutrition clinic that meets once a month for anyone interested in losing weight, and this year, the clinic added an array of women's health services. Plans to open a pediatric unit are also in the works, but the board of directors, which consists of UK medical professionals and Salvation Army officials, must first approve the project.
"The thought is to do camp physicals, meet some of the needs of the children who are sick and need to see the doctor but bypass it because they're not desperately sick," said Major Susan M. Hinzman, associate corps officer for The Salvation Army Lexington Corps.
Roughly 60 children living at The Salvation Army shelter on-site currently do not have access to care, according to Dickson.
"All children under the age of 18 in Kentucky are covered by [Medicaid]," Dickson said, "but again, it goes back to it being really hard getting care."