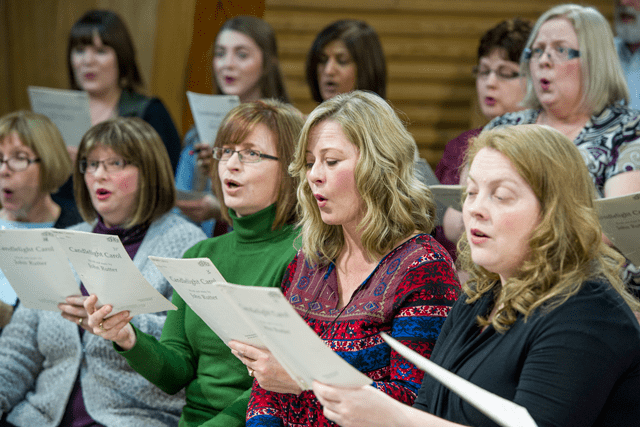 Canadian Staff Songsters regroup
Musical ministry finds resurgence in Canada, 100 years after formation of country's first brigade.
By Karen Gleason –

The resurgent Canadian Staff Songsters (CSS), 36 members strong, recently began weekly rehearsals at The Salvation Army Yorkminister Citadel near Toronto, under the leadership of
Major Len Ballantine
.
In a dedication service last fall at Jackson's Point Conference Centre, Ontario, the group pledged itself to musical ministry. Canada and Bermuda Territorial Commander Commissioner Susan McMillan invited songster members to the mercy seat, where each individual knelt and signed a covenant, committing the ministry to God. McMillan then officially installed Ballantine and presented him with his commission. The group
presented
gave
its first public performance during the Christmas season.
"As leader of the Canadian Staff Songsters, I am blessed to work with a talented group of dedicated Salvationists who believe in the musical mission and ministry of the CSS," Ballantine said. "I am indebted to our territorial commander for her personal interest and support."
Ballantine brings extensive musical experience to his leadership role.
"I have been blessed to serve in territorial and international appointments which afforded my wife, Heather, and I, the unique privilege of sharing in worship and leading music schools and aggregations across the world," he said. "During our tenure in the United Kingdom, where for six wonderful years I was the leader of the International Staff Songsters, I gained deep insight into how God uses his people and music for his honor and glory."
Songster members share similar passion.
"Being a member of the CSS is an opportunity to proclaim the gospel through inspired music that allows us all to enter in God's presence," said CSS member Nancy Turley. "The songs we sing declare our desire to sing for joy as long as we live, based on Psalm 104:33…The CSS allows our singing to be ministry."
The territorial group comprises Salvationists from two Canadian divisions: Ontario Central East, based in Toronto, and Ontario Great Lakes, based in London, Ontario. One member travels four hours each way to the weekly rehearsals, according to Major John Murray, CSS Communications Director and songster member.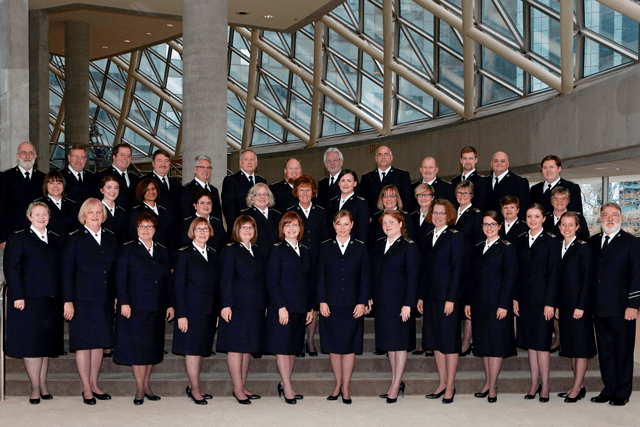 "Each week is an encounter with God himself…The collective testimony of our group and the way that God ministers to our individual hearts as we sing is a constant reminder that God speaks through the music we sing," Turley said. "What a blessing!"
Yet, this is not the first incarnation of the CSS, as 2016 marked the 100th anniversary of the founding of the original Canadian Staff Songsters.
Commissioner William C. Arnold, grandfather of retired USA National Commander Commissioner John Busby, organized that group in 1916 after the sinking of the ocean liner
Empress of Ireland
in the St. Lawrence River in 1914, which killed more than 1,000 people, including over 150 Salvationists.
"Few members of the Canadian Staff Band, who were en route to a congress in London, survived," Ballantine said. "In honor of their memory and musical legacy, the original Canadian Staff Songsters was created and while the brigade only lasted a few years, due to the outbreak of World War I, they paved the way for the formation of the 2016 Canadian Staff Songsters and it is a privilege to follow in their footsteps and musical heritage."
The CSS leadership team includes Executive Officer Lt. Colonel Wendy Waters, Deputy Songster Leader Cathie Koehnen, Songster Manager Ken Bailey and Songster Sergeant Janette Brown.
"The brigade looks forward to sharing in ministry across the territory and helping to engage Salvationists and friends in choral music," Ballantine said, "music which can stir the heart and mind."
Follow "The Canadian Staff Songsters" on Facebook for news and appearances.