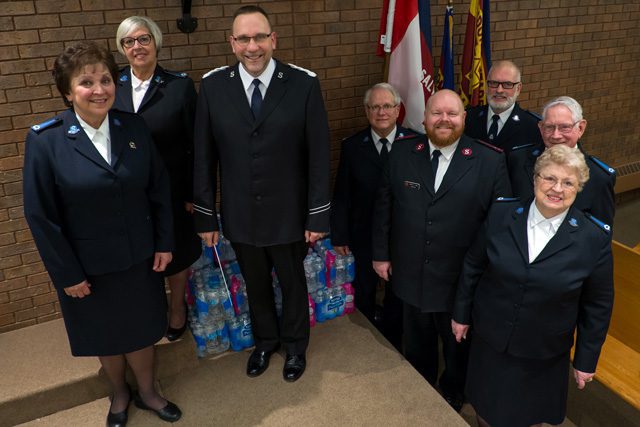 Canadian corps holds benefit concert for Flint
Over $3,000 raised in one night to support The Salvation Army's ongoing work in Flint.
When the Flint Water Crisis made headlines across the U.S., Salvationists across the Canadian border took notice.
Within just two weeks of the announcement of a state of emergency in Flint, Mich., after the discovery of high lead levels in the city's water, the London (Ontario) Citadel Corps Band and Songsters held a benefit concert to raise awareness and proceeds for the work of the Flint Citadel Corps. In part, the corps was prompted by a water crisis in Walkerton, Ontario, in May of 2000.
 Several radio and television stations and local newspapers even gave the event free publicity, and the buzz grew from there.
 Residents packed the corps the night of the Water of Life Concert to show their support. The evening featured the London Citadel Band, led by Bandmaster John Lam, and the London Citadel Songsters, led by Jane Lam, as well as several London area guests including, soprano soloist Sonja Gustafson, tuba soloist John Rowsell, trumpet soloist Paul Stevenson, clarinetist Amanda Palmer and pianist Karen Butler.
 After intermission, the band played Bandmaster William Himes' march, "Rolling Along," which was written for the Flint Citadel Corps' Centennial Celebration in 1993.
The evening culminated in $3,367.86 to help the Army's ongoing efforts in Flint.
"We are genuinely overwhelmed by the compassion and generosity of fellow Salvationists across the border," said Captain Caleb Senn, Genesee County coordinator and Flint Citadel corps officer. "There can be no greater reminder that we are one Army bound by the sacred bond of Christ's love."