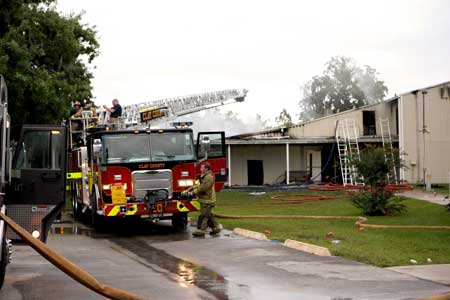 Camp Keystone Carries On After Blaze Destroys Dining Hall in Florida, USA
A fire that destroyed the largest building at The Salvation Army's Camp Keystone in Florida, USA, has not stopped the summer camp's programmes from continuing. The Florida Fire Marshal's office, which is still trying to determine the cause of the blaze, says the fire started in the laundry area of the building and caused an estimated US$3 million in damage. No one was injured but campers in the cabin closest to the dining hall were evacuated.
More than 300 campers and staff were sleeping when the fire was discovered in the early hours of Saturday 20 July. Two dozen fire crews from Bradford and Clay Counties and the city of Starke assisted in fighting the blaze. The dining hall, originally built in the mid-1970s, has undergone renovations in the past few years, but it is now a charred shell.
The annual Music Conservatory final concert went ahead as planned with a capacity audience of family and friends. One counsellor was reported as saying to the media: 'They were singing and dancing in the tabernacle just like nothing ever happened.'
On Saturday morning breakfast consisted of Pop-Tarts and juice. The Jacksonville Area Command canteen arrived and served food and drinks through the weekend.
Later on Sunday, a 53-foot mobile feeding kitchen rolled into camp from the divisional emergency disaster services base in Tampa. The kitchen, having seen service at hurricanes, floods and tornadoes, will now provide meals for campers and staff for the remainder of the camping season.
Like the many other Salvation Army camps established across the USA, Keystone provides opportunities to children – often from difficult backgrounds – who are referred by social services, as well as to those who are members of Salvation Army groups or Sunday schools. The camp experience helps them to grow, learn and be encouraged. Counsellors strive to meet the young people's spiritual, social, recreational and educational needs.
Prayers are requested for staff and campers who will stay at Keystone for the rest of the summer season.