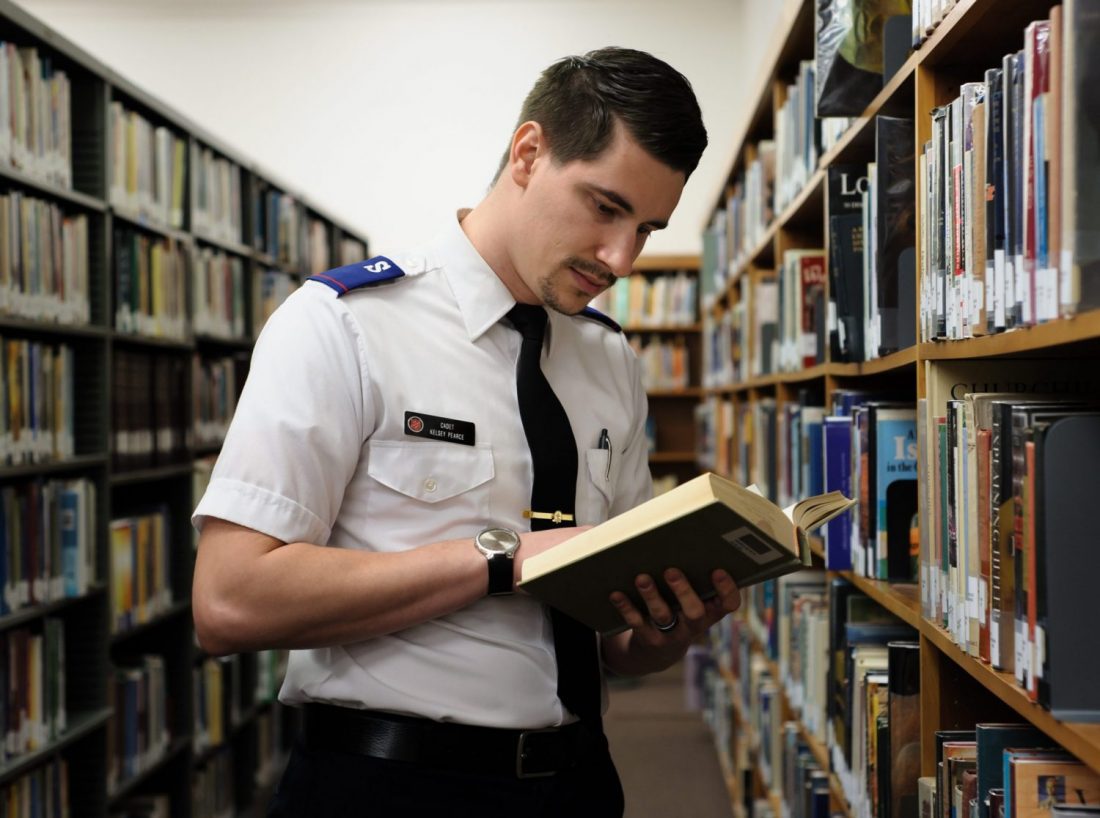 A little jargon brought this cadet to Christ
Introducing first-year Cadet Kelsey Pearce and his route to ministry
By Erica Andrews –
Growing up, Kelsey Pearce was always a little impervious to religion. But when he was 16, he witnessed something that turned him entirely against it.
He went to see a well-known pastor speak at one of Sacramento's biggest expo centers, which drew thousands of people. It was summer, 100 degrees and as everyone was leaving, Pearce saw at the exit a father and two children who appeared to be homeless. They had a sign that read "Hungry, thirsty, please help."
"He had these two little boys who had their shirts off and looked kind of sun beaten," Pearce said. "I'm not the kind of person who hands a $1 to every one I see necessarily, but I just remembered how there was thousands of these Christians passing by this family and nobody even handed them the rest of their sandwich or a drink of water."
After that incident, Pearce said he was done with organized religion.
He said he began to drink heavily and party with his friends. While in community college, he heard about an opportunity to work at a summer camp Oregon. He and his friends thought it would be a fun, easy way to earn some extra cash.
Pearce said they were unsuitable candidates, but did a good job fluffing their application answers using their Christian backgrounds and all the right jargon. They all got the jobs, and Pearce said something happened to them at camp.
"After the first week of orientation, before the kids were even there, we'd all been saved," Pearce said. "It was kind of an awesome experience in that way."
While there, Pearce also met his future wife, Jess. They married a year later at 21. They both felt called to work for The Salvation Army and for two years served as corps assistants for the Merced Corps in Central California. They dreamt of mission work in the Czech Republic, and were sent by Western Territorial Headquarters in 2010.
They felt called to ministry in the worst parts of the city where there is a large Romani population (commonly known as Gypsies). The 2011 census reported 13,150 Romani inhabitants in the Czech Republic. More than 60 percent of Czech Republicans also identify as nonreligious, according to the Czech Statistical Office.
"They had a lot of good social programs, but they didn't have a lot of ministry programs over there, so we felt called to bring more ministry programs and move toward the idea of starting a corps there in that part of town," Pearce said. "That was something we thought and talked about, but it never made sense given that we were on a short term mission, so we were inspired to hopefully—if God wills it—go back one day."
After returning, the Pearces worked at the Suisun City Ray and Joan Corps Community Kroc Center, helping to establish the center and welcome the community. They felt compelled to be officers while there. For a long time they had wrestled with the idea, but said they weren't ready to give up control.
Last year, the couple moved to Rancho Palos Verdes, Calif., to attend The Salvation Army's Crestmont College for Officer Training. Pearce said that even though they were reluctant, the experience has proven beneficial.
"We kind of pictured it as a bit of a hurdle in the way of doing ministry, kind of a low point in between ministry experiences," Pearce said, "but it turns out there's great ministry opportunity here. We love being in community and having a kind of uniquely woven support system all around us."
Pearce, now in his second semester, said the classes can be challenging, but he is enjoying that aspect and feels like he is learning and growing.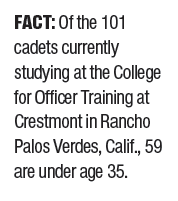 "It's kind of like a sharpening process," he said. "There's so many intelligent people around and so many experienced people around that we're able to learn a lot in this time."
Pearce eagerly eyes the future as a full-fledged officer. In whatever community they are placed in, Pearce said he wants to help bring people to know Christ and the Army.
"My hope as Salvation Army officers is that whatever we do and wherever we go, The Salvation Army and the shield in that community be seen with excellence," Pearce said. "We're passionate about ensuring community relations and relationships of all kinds are handled delicately and that we air on the side of love with all of the people we meet."